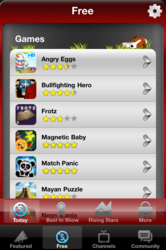 "The great thing about apps offered in AppTerrier is that they are not trial or "lite" versions of the app. It is a fully functional app that will never expire."
New York, NY (PRWEB) October 14, 2011
Five Finger Studios is excited to announce that AppTerrier is now available for Free from the Apple App Store. AppTerrier is user friendly, simple to use and offers apps that recently dropped in price from as much as $4.99 to free on a daily basis. Users can download as many apps as desired, without any limits. This allows users the ability to save a tremendous amount of money on app purchases. The exclusive activeFetch technology provides only the best premium free apps to be viewed by category within AppTerrier. Daily alerts notify users when the apps are available for viewing.
AppTerrier organizes premium free apps in Featured, Free and Channel views. Community tab allows users the ability to view top downloaded apps for the day, top shared apps for the day and allows many different ways to share apps with your friends & family.
"The great thing about apps offered in AppTerrier is that they are not trial or "lite" versions of the app. It is a fully functional app that will never expire." states Alfred Cheapstein. He also goes on to mention that "We ourselves love the iOS ecosystem and want others to experience it to the fullest". With over 500,000+ apps available to choose from, the development team is committed to the important goal of providing the best user experience possible for obtaining premium apps for free. AppTerrier is available now and free to download from the Apple App Store. For more information, visit http://appterrier.com.
###