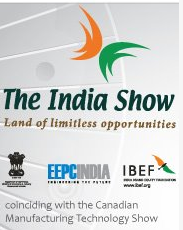 more than 150 Indian engineering companies will participate at The India Show in Toronto, Canada, from 17-20 October 2011. It will be the biggest show of Indian engineering companies in Canada
(PRWEB) October 15, 2011
In a joint press conference held by the Engineering Export Promotion council and the Ministry of Commerce on India Show with the Canadian Manufacturing Technology Show informed that, more than 150 Indian engineering companies will participate at The India Show in Toronto, Canada, from 17-20 October 2011. It will be the biggest show of Indian engineering companies in Canada and a major effort to promote 'Brand India' in the North American continent. Shri Anup Wadhawan, Joint Secretary with the Ministry of Commerce and Mr. Aman Chadha, Chairman EEPC India along with the representative from Canadian high Commission, Ms. Sara Wishaw Minister Commercial, interacted with the press and briefed them on the forthcoming India Show. The India Show will be organized by EEPC India, Ministry of Commerce & Industry, Government of India and India Brand Equity Foundation (IBEF) with support from the Indian High Commission in Ottawa and the Canadian High Commission in New Delhi.
Mr. Aman Chadda Chairman EEPC informed that, "the India Show is the latest in a series of events that have been organised across the globe after the Union Minister of Commerce, Industry and Textile, Shri Anand Sharma, announced the Foreign Trade Policy for 2009-2014 and the need to promote 'Brand India' through 'The India Shows'."
The big Indian companies at the show will be Tata Motors, Tata Steel, Heavy Engineering Corporation, Bajaj International and Mahindra Reva Electric Vehicles. A large number of manufacturing exporters from the medium and small-scale sector will also show their products and services, he added.
Ms. Sara Minister Commercial from the High commission of Canada said that we are looking for the partnership in engineering services, India is a huge knowledge economy and its prowess in science & technology, ITES and services are well recognized. Indian companies should come to Canada and invest in manufacturing sector. She said that Indian companies are known for low cost manufacturing. She further asked Canadian companies to work in the infrastructure sector. The India Show will be part of the Canadian Manufacturing Technology Show (CMTS), the largest manufacturing exposition in North America and Canada's ultimate manufacturing event organized once every two years by the Society of Manufacturing Engineers (SME), Canada. India is the 'Strategic International Partner' at CMTS. India represents a dynamic business proposition, which will be projected by IBEF across The India Show in Toronto. In the run up to the Show, EEPC India and the Indo-Canadian Business Chamber organised several road shows in India.
Shri Anup Wadhawan, Joint Secretary, Ministry of Commerce & Industry, said that, "bilateral trade between India and Canada was under US$4.06 billion, well below the potential. He said that India and Canada had set a target of tripling bilateral trade by 2015 and engineering was the safest bet to reach this target". Engineering exports, with more than 25% share, is the largest segment of India's total exports. In 2010-11, it was US $ 60 billion. In April-August 2011, it was US $ 39.24 billion, a share of 29.18%. But India's engineering exports to Canada was only US $ 0.265 billion, a mere 0.24% of Canada's total engineering imports. The India Show in Toronto will attempt to change that.
The show will showcase India's strength in automobiles, auto-components, electric goods, space research and science and technology and many other engineering items. The show will have sectoral representations in science & technology, space research, heavy industries, defense, and tourism as well as Indian States like Jharkhand, Madhya Pradesh, etc. to promote investments in the manufacturing sector.
Dr Rahul Khullar, Commerce Secretary, Ministry of Commerce & Industry will lead the Indian delegation to the Canadian Manufacturing Technology Show.
Mr Chadha, Chairman, EEPC India, said, "A special effort would be made to promote the small and medium scale enterprises because they were the largest segment in the engineering sector. EEPC India hoped that the working models from the Department of Science & Technology, ISRO, and the Mahindra Rewa Electric Car and Tata Nano would be a big draw at the event."
As part of this major push into the North American continent, EEPC India has invited 50 Canadian manufacturing companies in Factory Automation, Technologies for Business, Clean Technology, Innovation, and Industrial Supplies to be part of the next version of EEPC's India Show in Mumbai in March 2012. Canada has agreed to be the 'Partner Country' at the Mumbai show.
About IBEF
India Brand Equity Foundation is a Trust established by the Ministry of Commerce with the Confederation of Indian Industry (CII) as its associate. IBEF's primary objective is to promote and create international awareness of the Made in India label in markets overseas and to facilitate the dissemination of knowledge of Indian products and services. IBEF is engaged in building Brand India. Towards this objective IBEF works closely with stakeholders across government and industry.
# # #