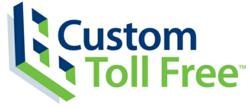 "This was a great result for our team, especially considering the economic conditions these past two years"
Seattle, WA (PRWEB) October 13, 2011
The awards banquet, held by PSBJ, was heavily attended, boasting over 500 attendees in a completely sold out event. Custom Toll Free was one of 100 companies recognized for revenue growth between 2008 and 2010. Companies were then ranked by overall percentages. The first place award went to a company exceeding 600% growth for this period. During speeches another honoree claimed "we chose not to participate in the recession" which was quickly followed by resounding applause. Indeed, for a downward progressing economy it seemed astonishing to see so many companies able to present revenue growth of at least 40%.
"This was a great result for our team, especially considering the economic conditions these past two years" said Michael Evans, President of Custom Toll Free. "We are very excited and have big aspirations for next year" added Christy Brugger Green, VP of Sales & Marketing.
About Custom Toll Free
Custom Toll Free is a national leader in the field of web services and marketing with vanity phone numbers. Custom Toll Free provides clients number search and location, market consulting, direct response services and e-commerce technology solutions for marketing and telecommunications companies nationwide. For more information, please visit http://www.customtollfree.com or call customer service phone number 1.800.CUSTOMIZE.
###