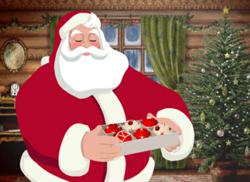 The winner will be announced on Monday the 14th of November and winning e card will be available to all Katies Cards members to send from mid-December.
(PRWEB) October 15, 2011
After the success of the last contest, Katies ECards have launched another Facebook competition offering entrants the exciting chance to create their own Christmas e card and win a £15 (or $20) Amazon voucher! Runners up will be treated to a free 1 year membership to the website, enabling them to send unlimited e cards from the Katies Cards collection. Entrants must post their Christmas ecard idea onto the Katies Cards Facebook fan page before the 11th of November when the winner and runners-up will be chosen.
Katies Cards launched their first Facebook contest in line with the growing trend for using online competitions as a marketing tool to gain exposure, attract new customers, send new traffic to their website, widen brand recognition and gain insight into their target audience. Following the success of their first competition they have decided to roll out another one, this time they are encouraging entrants to submit their own Christmas ecard ideas. This will help the Katies Cards team to find out the new trends for Christmas as well as gaining an insight into what their customers are looking for.
The winner will be announced on Facebook as well as on the Katies Cards website and work will then commence bringing to life the winning E card idea. The card will be available to send in mid-December and once uploaded to the website, will join other new Christmas ecards in the collection, including the brand new 'Turkey Breakout' Christmas e card-game, which will be available in November. The new e cards will join the large Christmas e card collection which includes the popular 'Turkey Breakout' series featuring turkeys attempting to escape their Christmas fate, 'Christmas Cottage', a cosy scene portraying a snowy cottage and a warm open fire, the moving 'Christmas Candles' card, spreading the message of peace at Christmas time. 'Christmas Presents' is a modern, upbeat card animated to snappy jazz music, 'Lob the leader' is more of a game where players have to hit leaders of the British government with snowballs as they pop out from behind various Christmas-themed objects and the 'Scrooge Game', where the player has to catch falling coins, as well as many more.
Katies Cards is a small, family run e card company who has created over 160 different e cards to suit all occasions, tastes and ages. They charge a small subscription fee in return for unlimited access to every card they create and are adding new cards and game-cards all of the time. For more information and to preview the cards visit katiescards.com/
For more information:
Telephone: +44 208 274 2069
Facebook: facebook.com/pages/Katies-Cards/131480713601167
Twitter: twitter.com/#!/katiedavies
Copyright information: This article is free for reproduction but must be reproduced in its entirety, including live links; this copyright statement must be included. Visit katiescards.com for more services!
###