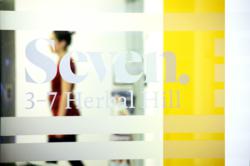 "Once known as one of the UK's leading contract publishers, Seven is now viewed as one of the most dynamic multi-platform strategic content agencies"
(PRWEB UK) 13 October 2011
Seven's successful titles include Abode and Home Smart, the magazines for Lloyds TSB and Halifax home insurance policyholders, which are both up for the Best Finance title with Abode also nominated for Best Use of Illustration. Your Wellbeing, the magazine for Aviva has also been shortlisted for the Best Finance title.
First TransPennine's staff magazine, Express, has been chosen as a finalist for Best Internal Communications. Recently shortlisted for Contractor of the Year in the First TransPennine Express Customer Excellence Awards, Seven's outstanding work on Express and Explorer, the leading train operator's onboard customer magazine, is clearly a hit with the magazine's readers.
Sainsbury's Magazine has been shortlisted for Best Consumer Publication. The UK's most widely read paid-for title has almost 4 million readers every month (NRS), and is the only magazine to have won the covetable PPA Customer Magazine Award at the annual Periodical Publishers Association (PPA) Awards three times.
Heritage Today, the membership magazine for English Heritage members, is also up for Best Consumer Publication in the membership sector.
Seven's talented editorial and design team have been selected as finalists, too. Helena Lange, Editor of Sainsbury's Magazine, has been nominated for the prestigious Editor of the Year award and talented Art Director Richard Spellman for the coveted Designer of the Year accolade.
Winner of the 2010 APA Best Integrated Marketing Solution, Sainsbury's Little Ones has been shortlisted again this year for the same category.
PROJECT, a collaboration between Seven and Virgin Digital Publishing, has been shortlisted for Best Mobile Solution. Recently nominated in the PPA Data & Digital Publishing Awards 2011 for App of the Year, PROJECT was the first iPad native magazine in the world.
Creating PROJECT, Seven set an industry benchmark for an iPad magazine user-interface 'design language' for other publishers to follow, producing three publishing world exclusives that included the world's first gyroscope magazine cover, the first 3D gesture-controlled magazine art gallery, an entire album's worth of music in a retro boombox and, to top it all off, fashion pages that featured an incredible 360-degree view of outfits on a revolving clothes stand. And that's not mentioning the exclusive access and live covers with Sir Paul McCartney, Harrison Ford and Eric Bana, who are among the many celebrities who have featured in PROJECT.
Other titles nominated include Club Wembley Journal, for Best Use of Photography, DEFRA's Landscape, for Best Digital Solution (Not For Profit) and CIMA's online magazine, http://FM-magazine.com, which has been selected for the Best B2B Internal Solution title. The Guardian's Poverty Over campaign for Christian Aid has also been chosen for the Best Digital Solution category.
Blue Door Media, a subsidiary of Seven, has also seen success with Barometer (Savills) shortlisted for Best Consumer Publication (non-retail).
With more than 500 entries, the International Content Marketing Awards is the world's leading awards for content marketing, recognising effectiveness and creativity in Customer Publishing worldwide.
Sean King, CEO of Seven, said: "We are delighted to have been shortlisted across such a wide range of categories. Once known as one of the UK's leading contract publishers, we are now viewed as one of the most dynamic multi-platform strategic content agencies in the industry. We want Seven to be the go-to agency for brands looking to develop and implement ground-breaking multi-channel content strategies. We have an award-winning team onboard and our aim is to capitalise on the growing trend towards brands creating owned and earned media, over bought, across all platforms."
The winners will be announced on Wednesday 23 November, at an awards ceremony at Old Billingsgate, London.
http://www.seven.co.uk
Notes to editors
About Seven
Seven is an award-winning strategic content agency. Experts in creating intelligent, relevant and effective content across multiple channels, including magazines websites, social media, interactive ezines, video, iPhone and iPad apps.
Clients of Seven include Sainsbury's, CIMA, English Heritage, Grant Thornton, Guardian Media Group, Lloyds Banking Group, Aviva and DEFRA.
For further information: http://www.seven.co.uk or contact Shareena Ali, PR, Shareena.ali(at)seven(dot)co(dot)uk 020 7775 5549.
Contact at Seven:
Shareena Ali
PR
Seven
3-7 Herbal Hill
London
EC1R 5EJ
Tel: 020 7775 5549
###