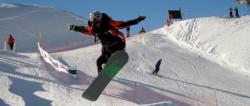 Our outstanding guide content is independent, in-depth and up to date. With our expanded ski guides and features, we hope to offer skiers and boarders a comprehensive hub to help them find their perfect holiday in the mountains
(PRWEB UK) 14 October 2011
With more than 100 in-depth guides on ski resorts, this new area is a comprehensive and invaluable source of advice and information. Along with traditional ski favourites such as Chamonix, Verbier and St Moritz, WTG covers lesser-known destinations such as Rusutsu and Riksgränsen.
The WTG ski section is designed to help skiers and boarders choose the perfect ski resort for their needs. In addition to the guides, there are also features written by WTG's expert ski writers, which will be added throughout the season, offering skiers insights into the best destinations for them.
Detailed guides include information about accommodation, how to get there, runs, slopes, activities and après-ski options. Each guide also includes seven-day weather forecasts, snow reports and an historic snow-depth tool allowing travellers to check previous snowfall over a three-year period.
Commercial Director, John Finlayson, said: "Our outstanding guide content is independent, in-depth and up to date. With our expanded ski guides and features, we hope to offer skiers and boarders a comprehensive hub to help them find their perfect holiday in the mountains."
WTG's Ski Guide Editor, Jonathan Payne said of the new ski hub, "We believe the new ski hub is a terrific resource for both experienced and novice skiers, and snowboarders. Whether you're going to Alpbach or Zermatt, you'll find all you need to know to help you plan a ski or snowboarding trip, all in one central place on our website."
--Ends--
About the World Travel Guide (WTG):
The World Travel Guide is the flagship digital consumer publication within the Columbus Travel Media portfolio. A comprehensive guide to the world's best destinations, its print heritage stretches back 32 years. The website, available in English, German, French and Spanish, marks its 12-year anniversary in 2011. WTG provides detailed travel information, written and researched by specialist travel journalists to inspire and inform travellers. The website includes hundreds of city, country and airport guides, as well as features and an extensive events calendar. Updated daily by a global editorial team, the website attracts more than two million unique users each month. For more information: http://www.worldtravelguide.net.
About Columbus Travel Media (CTM):
Columbus Travel Media is one of the most respected and successful names within the global travel industry, with a long and rich publishing heritage spanning more than 32 years. As the definitive resource for global travel content, the company's reputation has been built on journalistic credibility. CTM is dedicated to the provision of objective, accurate, informative and reliable travel content in various formats, including the World Travel Guide, World Travel Atlas and World Travel Atlas iPad App, as well as producing Columbus Travel Professional for industry professionals and Columbus Content Solutions for commercial partners.
For more information:
Jonathan Payne, Ski Guide Editor (jonathan.payne(at)columbustravelmedia(dot)com)
Victoria Smale, Marketing & PR Manager (victoria.smale(at)columbustravelmedia(dot)com)
John Finlayson, Commercial Director (john.finlayson(at)columbustravelmedia(dot)com )
Rob Tomalin, Business Development Director (rob.tomalin(at)columbustravelmedia(dot)com)
###