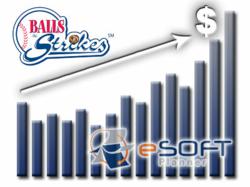 Springfield, MO (PRWEB) October 25, 2011
Jamie Sheetz, part-owner of three Balls-N-Strikes baseball facilities in southwest Missouri, used eSoft Planner online scheduling software to create a new membership structure that generates passive income for his baseball facility.
Sheetz recently launched eSoft Planner at one of his locations so that his clients could easily schedule and pay for baseball lessons and cage rentals online.
As he set up the software and created memberships, Sheetz paid special attention to subtle marketing advantages that his new system allowed him to put in place. He made sure that he allotted special privileges to his VIP members. Privileges included being able to schedule lessons farther in advance than other clients, getting the first chance to register for camps and clinics, and receiving discounts on baseball lessons. Many of Sheetz's clients have jumped at the chance to get those special advantages, and they have purchased VIP memberships for an additional monthly cost.
So, although it didn't cost Sheetz any significant time or resources to give special access to his VIP members, he is able to generate extra income because of it. And, since the memberships are open ended and re-bill automatically unless there's a cancellation, he can potentially make that extra income steadily every month, adding convenience for his regular clients at the same time.
eSoft Planner scheduling and management software helped Sheetz put his membership plan into action by allowing him to completely automate the membership purchasing processes – his clients can purchase memberships anytime for themselves online, and their benefits are distributed automatically as they schedule and shop.
Sheetz's work is a great example of how sports facilities should creatively market their services toward various client groups and take advantage of marketing features built into baseball facility scheduling software.
About eSoft Planner: eSoft Planner, produced by PPC Communications in Cincinnati, Ohio, is a web-based scheduling and management software that was developed to decrease administrative overhead costs and eliminate lost revenue due to late cancellations and no-shows. PPC Communications provides ongoing support to its clients for free after a customized and consultative setup process. eSoft Planner's functionality allows users to manage appointments, group classes, location rentals and add-on products and services, all of which can be grouped together and distributed for custom prices with packages and memberships. eSoft Planner also has a Point of Sale system and a League manager, but clients only pay for the features that they need.
For more information, fill out a demo request or call (513) 791-4940.
About Balls-n-Strikes: Balls-n-Strikes is the premier indoor baseball and softball training company in the United States. Through private instruction, camps, small group classes, and one-day clinics, its staff provides players of all ages with the fundamentals necessary to develop their skills in state-of-the-art training facilities. Their goal is that every individual in their programs has a great experience, learns the proper training to enhance their playing skills, and meets instructors and friends along the way.
Balls-N-Strikes Springfield: (417) 866-8200
###