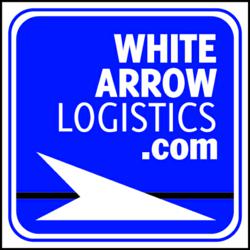 White Arrow Logistics is already an award winning business
Wigan, Greater Manchester (PRWEB) October 14, 2011
White Arrow Logistics is already award winning, chosen as 'Best New Warehouse Operator 2010' by the highly respected body, UKWA (UK Warehousing Association). Established during 2009, White Arrow Logistics is a privately owned company with its flagship site and headquarters in Martland Park, Wigan. This iconic building will be familiar to many in the locality as the former GUS mail order distribution centre.
The business was created to develop a contract logistics business in the UK warehousing sector. The focus is on offering highly flexible warehousing and logistics services to a broad range of markets including retail and consumer, manufacturing, packaging and e-commerce for online retail sectors. In two years the business has grown from zero to around £5m sales and is hungry for more. A huge investment has been made to restore the Wigan facility and this is almost complete.
The business model is simple. With approaching 2mn square feet of space nationwide, including almost 700,000 square feet and a huge yard in Wigan, the aim is to attract storage opportunities for customer products and utilise the space. Services offered include pallet storage, picking, packing, order management and despatch management via nominated carriers. In addition there is an e-commerce capability which includes fulfilment and despatch direct to end user. White Arrow offer both contracted business, and also flexible short term arrangements. For example a local client has diverted incoming containers to the Wigan site to relieve pressure at their own site. Clients include a major supermarket group and a global sportswear brand.
To support development plans White Arrow has partnerships with Unipart Logistics and Go Fulfilment to provide support, operational resource and speciality expertise and both are based on site. Similarly, Zenith Group Logistics provides haulage support and have their business HQ based on-site. Vehicle parking solutions are offered to haulage businesses wishing to add to their operating centres and extend coverage. Clients include Ashurst Transport, Business Moves Group, Montgomery's and Auto Car Logistics.
Information Technology plays a key role for logistics ensuring robust stock control and order pick accuracy. White Arrow has elected to operate with Snapfulfil and Amethyst, both warehouse management systems with full interface abilities. Together with links to customer systems this runs very efficiently, providing clients with direct remote access and White Arrow with highly effective management control with visibility throughout the supply chain.
White Arrow's client base includes sports fashion, food and consumables, packaging and computer equipment and even beautifully scented candles! Also stored are empty beverage cans for beers and a multitude of grocery products from coffee to chilled salad.
One of the unique aspects of the business is the speed and flexibility of service, plus low cost base in comparison to much larger operators. Furthermore White Arrow is prepared to consider unusual deals including client-run operations, or space-only contracts. For example, Chris Cunney Motors runs its business on site at one of the workshops in the Martland Park yard. Buffaload, a chilled foods operator, has taken part of the Martland Park facility to store and consolidate its products for onward delivery to supermarket groups and food manufacturers using their 'chill' fleet, also based at Martland Park. CVL, a distributor for Bargain Booze is also basing vehicles and drivers on site. Other local customers include Wigan Council through Document Solutions; Pendragon, Medicina, and Shop Direct Group, the giant online retailer.
The sheer scale of the warehouse network means employment opportunities will emerge as growth continues. With new contract gains, the immediate outlook means over one hundred operational staff will be working at Martland Park within the next few months. Ultimately this very unique business believes itself capable of reaching £10m turnover over the next 2-3 years.
Earlier this year as part of its ongoing commitment to support the local community, White Arrow staged a competition for Wigan schools themed "Why I love Wigan". This was a great success with hundreds of art and literature entries submitted by Year 5 school children. The winning school, Mab's Cross Primary School, was awarded the first prize of £1000 and the two joint-winning pupils shared the £250 prize. One of the winning entries was the very creative "Wigan Time Capsule." Plans are in hand to run a very different creative competition for Wigan youth groups next year.
Please visit http://www.whitearrowlogistics.com
or contact
07500 553962 (Mark), or 07720 409710 (Nick).
Alternatively email Mark Hansard on
mark.hansard(at)whitearrowlogistics(dot)com
###