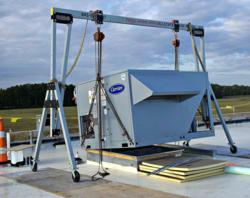 Phil Veil, Allstate's Sales Representative for this job stated "the customer saved thousands of dollars in what would have otherwise been a very difficult and expensive operation without having their eme portable Gantry Cranes available".
Fort Erie, ON (PRWEB) October 20, 2011
Allstate Crane Rental had previously craned a large number of A/C units onto the roof of a new high tech facility near Charleston, SC. A week later they were told by the contractor that the farthest unit needed lifted because the roofer forgot to install the roof flashing on the curb. They were near their budget limit and could not afford to re-mobilize a big crane to reach that far again. Allstate used a smaller crane to lift some plywood and their eme 4400T Gantry Crane onto the roof. The Allstate crew rolled over to the unit, set it on plywood to protect the roof, rigged to the unit and lifted it off the curb. The crew easily rolled the 2,200 lb. unit away so the roofer could do his job. The crew then re-set the unit on the curb within 90 minutes. The customer was so satisfied that they had Allstate move two more units even further down the roof. The entire job was finished within 6 hours. This saved the customer thousands of dollars in one day.
Contact Allstate Crane Rental (800-982-3499) for more information on their complete line of mobile cranes and lightweight and portable aluminum Gantry Cranes.
# # #