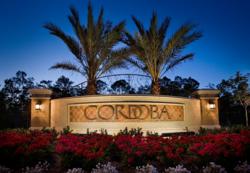 "I have kept a spreadsheet for 30 years detailing all of my home expenditures in California and on Marco Island," said Dodd. "My Florida Power & Light (FPL) bills in my new Cordoba home are one-third the cost of my other homes!
Naples, Florida (PRWEB) October 18, 2011
Cordoba, a new private, gated enclave of just 50 single-family homes at Lely Resort is making a name for itself building homes that combine unsurpassed luxury and remarkable energy efficiency.
The quality of construction and energy efficiency of the new homes at Cordoba has amazed Tom F. Dodd who lives in a Barcelona Grande model.
Dodd lived in California for 26 years where he ran a successful international medical devices company in Silicon Valley before retiring in 2004. Eventually he sold his homes in Lake Tahoe and the Bay Area and moved from California to Florida, spending a year on Marco Island and then deciding to buy a home in Cordoba.
"The quality of construction at Cordoba is vastly superior to the other homes I looked at in this price range." said Dodd. "And the neighborhood is centrally located at Lely Resort, which contributes to the wonderful resort lifestyle. The Players Club & Spa amenities are similar to those I enjoyed at Blackhawk in Danville, California, which is a high-end Bay Area community."
Dodd moved in during the peak summer months and was immediately thrilled with the savings he was garnering in electricity costs.
"I have kept a spreadsheet for 30 years detailing all of my home expenditures in California and on Marco Island," said Dodd. "My Florida Power & Light (FPL) bills in my new Cordoba home are one-third the cost of my other homes!"
Dodd said though he has a few hundred square feet less under air in his Cordoba home, his courtyard has a larger pool than in his other homes.
"I was extremely impressed with the energy efficiency of this new home," said Dodd. "It has surpassed my expectations based on what I was told during the sales process."
This is music to the ears of Mark DiSabato, Managing Partner of Cordoba Development, LLC., who decided from the beginning to build homes of extreme high quality and energy efficiency in Cordoba.
One of the first decision's the developer made was to bring in Jennifer Languell, founder and president of Trifecta Construction Solutions in Fort Myers. Languell, who received her Ph.D. in civil engineering with a specialization in sustainable construction from the University of Florida, and was recently named the National Association of Home Builders' Green Advocate of the Year, becoming the only person to win the award twice. She's a past president of the Florida Green Building Coalition, and nationally recognized for her expertise.
"She is one of the top experts in the field," said DiSabato. "Among other things, she consulted with our architect to design a structure that is sustainable, as well as incorporating energy-saving insulation, lighting, appliances and other components."
Months of planning and re-planning produced nine different single-story and two-story designs ranging from 1,544 to 2,383 square feet under air. The homes are all approved by Florida Power and Light for its Build Smart Program, the US Environmental Protection Agency's Energy Star Award and Certified by the Florida Green Building Coalition.
According to DiSabato, a myriad of building techniques and supplies make the Cordoba homes incredibly energy efficient. For starters, the buildings are constructed at a level far superior than required by the current codes. For example, the home is inspected by a third party three times or more during the building process to qualify for the energy efficiency ratings.
The roof structure and insulation is a sealed system with insulation on the underside of the roof so a "conditioned space" is created. One of the major benefits of this extra effort is quieter, cleaner home. Everything from the air-conditioner to the pool filter pump makes less noise. In the end, these homes not only lower energy costs, they also improve insurance rates.
All of this effort has been noticed by Cordoba's building industry peers.
The latest honors for Cordoba come for their work on the beautifully furnished "Alicante" model, which received a Sand Dollar for Product Design of the Year in a Home Priced from $500,000 to $699,999, as well as a second award for Best Pool Design. This comes on the heels of five earlier Sand Dollar Awards.
"The Barcelona Grande previously won a Product Design of the Year Award and the San Sebastian took home the Sand Dollar for Best Green Home Design," said DiSabato. "We are combing the best elements of energy efficiency without compromising architectural beauty and livability. In fact, we are improving it. Our standard features are dramatic upgrades elsewhere and include stainless steel Kitchen-Aid appliances, solid Mahogany front doors, Granite throughout the entire home, high quality flooring and 7 1/4 inch baseboard and sumptuous Crown Mouldings."
The Cordoba Sales Center is located at 7884 Cordoba Place within Lely Resort, which is at the corner of U.S. 41 and Collier Boulevard. For more information call (239) 261-5656 or visit them on the web at http://www.Cordobanaples.com.
###