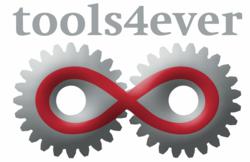 Reaching 5 million managed users is an incredible milestone and I have an incredible world-wide team to thank for achieving this success.
Seattle, WA. (PRWEB) October 18, 2011
Tools4ever, the market leader in Identity and Access Management solutions, is proud to announce it's on its way to 5 million managed users world-wide. With offices in Seattle, New York, United Kingdom, The Netherlands, France and Germany; Tools4ever continues to release innovative, effective and cost efficient software solutions for organizations looking to easily implement robust Identity and Access Management strategies. Tools4ever has realized recent growth in vertical markets like healthcare and government, where information security and compliancy are the main reasons to implement an Identity and Access Management solution.
Jacques Vriens, Founder and CEO says; "I am very proud of the tremendous growth and success Tools4ever has made in its short 12 years of operations. Reaching 5 million managed users is an incredible milestone and I have an incredible world-wide team to thank for achieving this success. It is our commitment to continue to provide our customers with software solutions that can be implemented at a low cost and in a short amount of time to provide an immediate ROI."
Tools4ever boasts an impressive suite of identity and access management software solutions which include User Management Resource Administrator (UMRA), Enterprise Single Sign On Manager (E-SSOM) and Self Service Password Reset Management (SSRPM). Each solution is tailored to meet the needs of the customer. Tools4ever's products increase information security and efficiency for organizations through intelligent solutions for timely, accurate, uniform and above all simple user account management; as well as, password complexity control, the ability to synchronize passwords, self-service password reset, and Single Sign-On (SSO).
Tools4ever provides services and solutions to a broad range of organizations varying in size from 300 to over 200,000 user accounts. Our international clients include Citigroup, EDF Electricité de France, Levi's, Motorola, Ericsson, Oracle, Lucent, NASA, Pentagon, various American government departments, including the Department of Agriculture and Defense, the University of Cambridge, GE Plastics, IBM and Marks & Spencer.
About Tools4ever
Tools4ever distinguishes itself with a no-nonsense approach and a low Total Cost of Ownership. In contrast to comparable Identity & Access Management solutions, Tools4ever provides a complete solution in several days rather than weeks or months. Partly thanks to this approach, Tools4ever is the undisputed Identity & Access Management market leader.
Tools4ever supplies a variety of software products and integrated consultancy services involving Identity Management, such as User Provisioning, RBAC, Password Management, SSO and Access Management. For more information, please visit http://www.tools4ever.com.
###