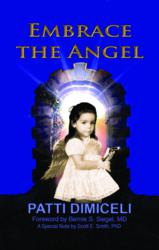 "Mom, when I die, I'll still be Amber, I'll just be different."
Annapolis, MD (PRWEB) October 20, 2011
This December 23rd marks the forty-year anniversary of President Nixon's "War on Cancer." It also highlights the deaths of over 22,000,000 people. To honor these people and the loved ones they left behind, "Embrace the Angel," a non-fiction novel has been released. In addition to hope, miracles, and "living well," Patti DiMiceli's book about her daughter, Amber's, journey through cancer and beyond, introduces a radical concept: Dying well. By moving past the traditional ideology of merely accepting death to fully embracing it, she offers a radical departure from societal norms. In addition, Ms. DiMiceli focuses the world's attention on cancer's victims, gives them a voice, and appeals for change.
Read and praised by the late Elisabeth Kubler-Ross, a pioneer in the field, she urged Ms. DiMiceli to write this book. "...I read it through and through all over again. It's very beautiful and very touching, especially her dreams and her courage and wisdom. You need to share this with the world—for Amber and Chad and all the many parents who need to know," Ms. Kubler-Ross wrote in her review.
With the Foreword written by Bernie Siegel, MD, Amber's surgeon, the reader is led on a journey deep into the world of cancer and its tangled politics, Ms. DiMicel's choice of traditional as well as alternative cancer treatments, her daughter's dying and death, and the media's coverage of it all. Through the eyes of a child, we learn what happens after we die and what to expect. "Before she died, Amber told me, 'Mom, when I die, I'll still be Amber, I'll just be different," Ms. DiMiceli says.
The Midwest Book Review gave it 5 stars on Amazon: "Cancer often leads to a journey to the other side. 'Embrace the Angel' is a memoir from Patti DiMiceli as she discusses her bond with her daughter, and her daughter's battle with cancer, and the spiritual nature that she gained from understanding it all together. With drive and inspiration, 'Embrace the Angel' is a thoughtful read that will speak well to many a reader who are in their own long standing conflict with cancer, for themselves or for their loved ones."
The "War on Cancer" has become a war amongst ourselves. The "Politics of Cancer" remain unchanged. The cost of cancer treatment, plus the loss of productivity due to illness and premature death is astounding. In one year alone (2010), it was $263.8 billion. Since 1971, the National Cancer Institute has spent $101,423,421,000 on cancer research. These figures do not take into account the human toll: Hardship, pain, and suffering, which cannot be measured. Despite spending billions, cancer continues to kill at an alarming rate. "...the death rate for cancer... dropped only 5 percent from 1950 to 2005." "We can no longer afford this 'War on Cancer,'" Ms. DiMiceli says, "It has cost us dearly. The time has come to end 'The War on Cancer' and start pooling our efforts and resources to prevent it."
For the last 30 years, Patti DiMiceli never lost sight of the gravity of the state of cancer and the urgency to set aside our differences and boundaries—medical, political, business—to join forces to stop the suffering and save the others. She is compelled to fulfill her daughter's legacy. "A few days before she died, Amber called me to her side and said, 'Mom, I know I'm here to help a lot of people.' That's why I wrote this book. It's why I haven't given up and let her become another cancer statistic. Like Amber, I am here to help a lot of people."
First published in 1996, this new edition of Embrace the Angel contains many of the documents, photos, transcripts, and truths that were buried with Amber's death. Uncovered at last, we understand one little girl's journey with cancer, one mother's heartfelt, uplifting story, and the power that millions possess to come together to finally conquer cancer. "We need a leader who is innocent and non-partial to inspire us to set aside vested interests, evaluate where we stand, and develop a workable strategy to prevent, treat, and cure cancer, in that order," Ms. DiMiceli says, "Amber is the icon for cancer. For the first time, we actually see it. It's not hidden inside... not easy to dismiss. Sometimes we need to see that which we have blindly denied."
DiMiceli has started working on her next book, "Before I Crossover," a collection of life lessons and wisdom from people who are dying. "When people stand at the threshold between life and death," she says, "They have incredible clarity. Putting their words to paper is a valuable legacy to leave behind for those of us who are still struggling to live a good, happy, and productive life."
###