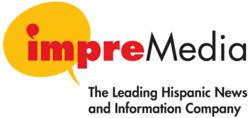 This is a time of great transformation, and opportunity, for our company as we fully integrate online, video, mobile, social, direct and content marketing into our media offerings. - Monica Lozano, CEO of impreMedia
Los Angeles, CA (PRWEB) October 13, 2011
impreMedia, the leading Hispanic news and information company, announced today that its CEO, Monica Lozano has received the prestigious "Media Executive of The Year" award, presented by hispanicad.com at this year's Association of Hispanic Advertising Agencies (AHAA) conference in Miami, Florida.
"I am extremely proud to have been selected by my peers as the Media Executive of the Year. This is a time of great transformation, and opportunity, for our company as we fully integrate online, video, mobile, social, direct and content marketing into our media offerings. Anchored by our strong brands and quality content, we are uniquely positioned to engage with Hispanic consumers," remarked Lozano.
Monica Lozano, CEO of impreMedia was elected from a list of nineteen nominees by media professionals, ad agency executives and recognized authorities in Hispanic media. The 2011 AHAA Conference was attended by some of the nation's top Hispanic media leaders, executives and agencies. Present at the Awards luncheon were representatives of Univision, NBC Universal, Nielsen, CNN en Español, Terra, Accento, Hispanic Market Weekly and Yahoo en Español (partial list).
Lozano, was also recently named by Adweek Magazine as one of the top Hispanic media executives in the country along with other influential leaders in U.S. Hispanic media.
Lozano holds over 25 years of experience in Spanish-language media and is a recognized authority in the Hispanic media industry. She serves on both corporate and non-profit boards and has won numerous awards and recognitions for her work.
About HispanicAd.com
HispanicAd.com provides news and information, including photos and data from the USA, Latin America and the Caribbean. It's information put together by Hispanics for our Industry. HispanicAd.com features regular contests and an abundance of reader forums, polls and other feedback opportunities. For more information visit: http://www.hispanicad.com.
About AHAA
Founded in 1996 and headquartered in McLean, VA, the Association of Hispanic Advertising Agencies (AHAA) is the national organization of Hispanic-owned and-managed firms united to promote the growth and strength of the Hispanic marketing and advertising industry to the private and public sectors. AHAA is raising awareness of the value of the Hispanic market's many opportunities while enhancing the professionalism of the industry. AHAA agencies lead the industry with collective capitalized billings exceeding $5 billion - more than 90 percent of the entire U.S. Hispanic advertising industry. Only AHAA agencies have the blend of cultural understanding, market knowledge, proven experience and professional resources that make them uniquely qualified to communicate with Hispanic consumers. These capabilities and skills offer the potential for Hispanic market success that's available nowhere else.
About impreMedia
impreMedia is the leading Hispanic news and information company in the U.S. in online and print. impreMedia's multi-platform offerings range from online to video, social media, mobile, audio, newspapers and magazines, including the http://www.impre.com portal. 25% of U.S. Hispanic adults use an impreMedia network product. The network is also the nation's largest Hispanic newspaper publisher with newspapers in top U.S. Hispanic markets, reaching 15 markets total that represent 59% of the U.S. Hispanic population. Its leading publications include La Opinión in Los Angeles and El Diario La Prensa in New York. For more information, visit: http://www.impremedia.com.
###