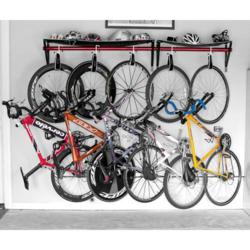 We typically experience a dramatic spike in storage bike rack sales in early fall
Lake Forest, IL (PRWEB) October 13, 2011
As people in many parts of the country start preparing to store their bikes for the winter, Bike Rack Shops has unveiled this fall's most popular bike storage solutions. With a focus on durability and ease of use, the list of top selling bike racks includes styles that can be used in any type of home or garage. Each bike rack identified offers unique options for those seeking convenience and safety when storing their bikes.
"We typically experience a dramatic spike in storage bike rack sales in early fall, and we want to keep our customers well informed so they find a high quality rack that best fits their individual needs and style," remarked Alex Miller, President of Renaissance Retail, Bike Rack Shops' parent company.
To help consumers select the best bike rack for a home or garage, the rack specialists at Bike Rack Shops offer the primary pros and cons for each of the top-ranked racks. To select the perfect rack, cyclists should determine how many bikes need to be stored, who is going to be using the rack, and how accessible the bikes need to be. The top five bike storage racks reflect the diverse needs of individual cyclists and biking families.
1. VeloGrip Vertical Bike Storage System: An innovator in the art of vertical bike storage, this rack utilizes soft and durable Velcro straps that allow cyclists to mount their bikes and then rotate them so they lay flat against the wall. Available in eight color combinations and holds 2 or 3 bikes, but many can be mounted side by side. ($239.00 - $269.00)
Pro: Stylish space saver
Con: Premium price
2. Swagman Park 6: With an appearance like a commercial bike rack, this double-sided floor bike stand holds three bikes on each side. It has a durable grid style design for use outside a home or in the garage. ($72.00)
Pro: Simple and economical
Con: Lightweight
3. Racor Bike and Ladder Lift: This hoist style rack is ideal for longer term storage of bikes. Cyclists simply pull a rope to hoist one bike up near the ceiling to keep it completely out of the way. ($59.95)
Pro: Ultimate space saver
Con: Requires installation
4. Thule Universal Bike Stacker: This freestanding option can be easily incorporated into a garage, home, or office. With independently adjustable arms, this rack accommodates two bikes of nearly any frame shape or size. ($116.95)
Pro: Indoor / outdoor space saver
Con: Second bike must be lifted
5. Swagman Single Sided Grid Rack: Though typically used as a commercial bike rack around parks and buildings, many people are now taking advantage of its durable construction to hold bikes upright and easily accessible in the garage or outside. Available to hold 4, 6, or 8 bikes. ($274.50 - $675.00)
Pro: Stores multiple bikes
Con: Premium price
Bike Rack Shops was the Internet's first dedicated source for meeting the vehicle and storage rack needs of cyclists and has evolved into the Internet's leading source for bicycle and storage racks. Its mission is to provide outstanding service, the lowest allowable prices, and the widest selection of leading bike rack brands. Headquartered in Lake Forest, Illinois, Bike Rack Shops is a division of Renaissance Retail, the Internet's leading source for specialty consumer products.
###