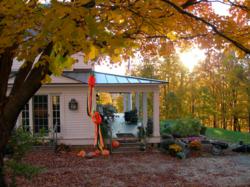 Strategic fall garden tasks prepare your yard for winter and next spring.
Lebanon, PA (PRWEB) October 14, 2011
Fall is a surprisingly active time in the garden. Winter is coming, and attending to a few strategic garden tasks can prepare the garden to weather the winter weather and ensure a colorful spring. Here are some pertinent seasonal gardening tips from http://www.preen.com.

For most of the country, October through November is flower bulb planting season. Spring favorites such as tulips, daffodils and hyacinths need to be planted in fall to bloom in spring. Idealy plant about six weeks before the ground freezes hard in your area.
Fall is an excellent time to plant trees, shrubs and perennials. However, if a particular plant is only borderline hardy in your area, best wait for spring.
If you have tender summer bulbs it's decision time. You can either treat them as annuals and toss them or leave them to die back. Or you can dig them and store them for the winter for replanting in spring.
Harvest pumpkins and winter squash before frost, when their rinds are hard and fully colored. Store in a cool location until ready to use.
Harvest mature, green tomatoes before frost and ripen indoors in the dark.
Asparagus top growth should not be removed until foliage yellows. Let foliage stand over winter to collect snow for insulation and moisture.
Strawberry plants need protection from winter extremes. Apply winter protection when plants are dormant but before temperatures drop below 20 degrees.
Protect shrubs near roadways from the spray of salt, water and ice with burlap, plastic tarp or other material.
Erect barriers around woody plants and trees if foraging rabbits, rodents or deer are a problem. Metal mesh (1/4-inch) hardware cloth is good for this. Pull mulch away from trunks to discourage rodents from making winter homes there.
Spray evergreens, including newly planted ones, with an antidesiccant when temperature is above 40 degrees F. These products protect plants from drying out rom winter cold and wind exposure.
Mound soil around rose grafts for winter protection.
When frost begins to turn perennial foliage brown it's time to trim them back. Leave mums, sedum, and ornamental grasses alone. These look pretty in winter. Also leave coneflowers, black-eyed Susans and other plants with seeds as food for birds.
For more information on gardening and landscaping visit http://www.preen.com. Preen is the leading brand of garden weed preventers. Preen products don't kill weeds; they are weed preventers. They stop new weeds from growing.
###