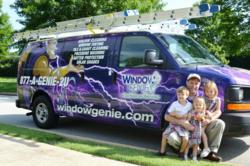 "Ben is a professional owner who is dedicated to succeeding as an Entrepreneur and really possesses a 'failure is not an option' mentality."
- Richard Nonelle, CEO and Founder of Window Genie
Cincinnati, Ohio (PRWEB) October 17, 2011
How many things can one think of around the house that needs to be done? How many of those jobs do homeowners put off doing because they don't feel comfortable on a ladder, or because it takes too much time or they don't feel they have the skill to complete? Like most homeowners, they don't "do" window cleaning…. Or seal their driveway…. Or wash their house exterior.
Now those in Northwest Georgia and surrounding area have another option to doing it themselves. Window Genie®, a national franchisor of window cleaning and other home services, has granted a new franchise territory to Benjamin Hankins, who runs his franchise from his office in Chattanooga. Hankins' franchise services Catoosa County, Walker County, Whitfield County, Dade, Chattooga County, Floyd County, and Gordon County, Georgia, and surrounding areas.
Hankins grew up in Bristol, Tennessee and went to the University of Tennessee in Knoxville. From there he went to work for the Air Force in Warner Robins, Georgia. After that, he moved to Atlanta for 10 years, where he met his wife Tracey, who worked for SunTrust for 17 years. Six years ago, the Hankins moved to Chattanooga, where they are raising their family. In 2008 Hankins started researching his options and finally decided that a Window Genie franchise would be the ideal move. He voluntarily quit his job, something not many people are doing in this economy. "Job security is not necessarily more secure in the corporate world than owning your own business," admitted Hankins. "You write your own checks, and you can work harder and smarter in your own business and make it work, while in the corporate world, you can work smarter and harder and still get fired."
Best known for their expert window cleaning, Window Genie offers other affordable home care services such as window tinting; deck and fence, concrete, and brick cleaning and sealing; house washing; gutter clean-out; gutter protection; tile and grout cleaning; and solar shades.
Window Genie is a year-round business. The multiple revenue streams take the 'seasonality' out of the equation. Windows can be cleaned during cold, snowy weather, as well as, hot and humid weather. A light rain will not affect the technicians or the windows. It is the year round service that lets them retain their qualified technicians so that they can keep the cleaning quality consistent.
"Ben is a professional owner who is dedicated to succeeding as an Entrepreneur and really possesses a 'failure is not an option' mentality," said Richard Nonelle, CEO and Founder of Window Genie®. "Business ownership is a tough, competitive environment and I believe he has the skills and desire to do well with Window Genie."
Residents should keep their eyes out for the big, purple GENIEMOBILES™ Hankins and his crew drive around the area. Wrapped in purple with lightning, featuring the giant "Window Genie," they are definitely an attention-grabbing way to advertise their business. With the phone number prominently listed on the side, they encourage consumers to call for their free, no-obligation estimates.
Window Genie strives to consistently provide professional services that exceed their customers' expectations while offering competitive pricing. Their fully trained technicians provide prompt and courteous service taking care of your house and window cleaning needs, and have a "No Streak Guarantee" that sets them a step above the rest. They also offer a Window Care program that will keep your windows looking great year round.
For more information about Window Genie and Ben Hankins, call (706) 866-6676 or email him at bhankins(at)windowgenie(dot)com.
About Window Genie: Window Genie® is a Nationally-ranked franchise system offering window cleaning, window tinting, pressure washing and related services to the residential and commercial markets. Founded in 1994 in Cincinnati, it has since grown to over 40 cities and offers "best in class" services. Easily identified by the wrapped GENIEMOBILES™, Window Genie was also recently listed by USA Today as a Top 50 franchise for Veterans. To learn more about Window Genie, visit us at http://www.windowgenie.com.
Window Genie® franchises are available throughout the United States, including Master Franchise opportunities. For more information about starting a Window Genie franchise, contact us at 800-700-0022 or visit our website at http://www.windowgeniefranchise.com.
###