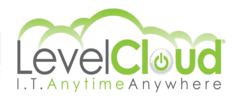 The WebTop was easy to learn, we like it a lot, the migration to LevelCloud was easy as well
Corona, CA (PRWEB) October 14, 2011
Alex Arroyo, president of Arrotin Plastics, had to make a decision on whether to re-invest in their IT network or find a better solution, he decided to look at what Cloud Computing could do for his business. "We were having some issues with our onsite servers at both of our facilities and the downtime was becoming costly," said Arroyo. Arrotin specializes in recycling plastic waste that many manufactures' generate during production. Instead of ending up in a landfill, Arrotin buys the waste material and processes it into a useable plastic base that can be used for other products.
In their search for a network upgrade, Arrotin found LevelCloud, a true turnkey solution that was able to take the entire network and deliver all of their e-mail, software, and files from state of the art datacenters. Employees can now access their LevelCloud WebTop from any device, anytime, and no longer have to worry about the device they use. "The WebTop was easy to learn, we like it a lot, the migration to LevelCloud was easy as well," noted Arroyo. With offices in both CA and IN, working on the same collaborative platform has helped employees be in sync.
Arrotin no longer needs onsite servers which required costly management, upgrades, and consumed energy 24/7/365. Further more LevelCloud provides the latest version of Microsoft Office and enables Arrotin to continue using older computers, dumb terminals, or any device they choose. In a fast paced commodity based business, technology uptime is crucial for growth. "Downtime is a major concern but I believe the solutions to our concerns are being incorporated. I like the fact that LevelCloud provides a back up site in case our main site goes down," mentioned Arroyo.
In a way LevelCloud is much like Arrotin in that it helps re-use or re-purpose old PC's and devices that were once obsolete, and reduce the power consumption of that noisy server rooms. "Although we like to think companies choose LevelCloud to help the planet, it's most likely because it helps their bottom line," said LevelCloud CEO Biren Shukla. "We are eager to see companies such as Arrotin adopt LevelCloud as their IT solution and truly take advantage of what technology can deliver," said Shukla.
ABOUT LEVELCLOUD
LevelCloud provides small/medium businesses with a turnkey cloud computing solution that replaces the traditional onsite network. The entire business network (e-mail,apps,data) are delivered through a centralized platform powered by dedicated resources in state of the art datacenters. LevelCloud enables organizations to free themselves from the traditional constraints of IT, and empower their staff to work anytime, anywhere, on any device through a collaborative platform.
###