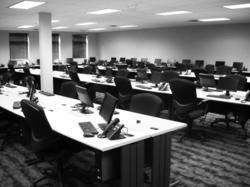 Atlanta, GA (PRWEB) October 14, 2011
Corus360, an Atlanta-based technology solutions firm, is pleased to announce the expansion of their Recovery Center with managed service offerings covering the full spectrum of enterprise-class data center requirements. To celebrate the expanded LEED Gold Compute, Data and Recovery Center, Corus360 is hosting an Open House from 3:00 p.m. – 7:00 p.m. on October 27th. The event, titled "The Flight to Data Center Efficiency," will take place at the Corus360 headquarters: 130 Technology Parkway, Norcross, GA 30092. The afternoon includes a Technology Infrastructure Leadership Panel, educational sessions, hors d'oeuvres and giveaways.
Corus360 will be providing tours of their newly expanded LEED Gold certified Recovery Center throughout the Open House. Attendees will be able to participate in a number of educational sessions presented by event sponsors Synnex, Dell, Hitachi, IBM, HP, and Radware. Sessions topics include: Increasing Storage Management Efficiencies, How to Reduce Acquisition and Operational Costs, Designing Data Center Efficient DR/BC Solutions and more.
Guests also have the opportunity to attend an exclusive Infrastructure Leadership Panel, featuring some of the industry's top experts in addition to interacting with some of Corus360's partners in an IT vendor showcase highlighting the latest in data center, storage and technology solutions.
Register for educational sessions at https://www.regonline.com/corus360recoverycenteropenhouse
About Corus360
Corus360 is a technology consulting and solutions company with more than 10 years of success delivering infrastructure solutions, recovery and consulting services that help organizations reduce costs, increase efficiencies and maximize productivity. Corus360 helps organizations solve business problems, reduce costs and enhance efficiency by devising, recommending and deploying business-aligned technology solutions. We specialize in best of breed infrastructure solutions, IT management consulting, application development, Data Center technologies, disaster recovery, managed services and enterprise applications. For more information, visit http://www.corus360.com.
###