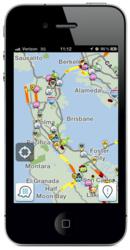 Palo Alto, CA (PRWEB) October 13, 2011
Waze is happy to announce a major update to its app for iPad, iPhone & iPod touch that champions local discovery by offering an end-to-end social experience of searching, navigating and checking-in to destinations. The update includes support for the new Twitter integration in iOS 5.
The new Waze App now operates the only map stack that reflects real-time information and community-curated points of interest, such as street fairs, protests and other local events on the social location stack.
Traditional GPS systems are built on static, old world maps and points of interest, which never reflect real-time information about new businesses, pop-up shops, or live local events. The new social eco-system provides consumer-generated data from people driving, checking in, and reviewing locations in real-time. This layer of social location information is now available to drivers in a navigation setting.
With Waze's new Twitter integration, users can seamlessly tweet their location, destination and estimated time of arrival, as well as real-time information about traffic conditions, on-going events and weather.
In addition, a new display of traffic and events en route helps drivers make the smartest travel choices before they leave. The guidance system has also been amplified with large fonts and complete text-to-speech capabilities for optimized hands-free navigation -- plus the new aesthetic gives the app a little more swagger and style.
The Waze GPS & traffic app is available for free from the App Store on iPad, iPhone or iPod touch or at http://m.waze.com
###