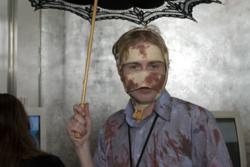 (PRWEB) October 13, 2011
This November 4-6, the Hampton Roads Convention Center will welcome back over 3500 fanboys and fangirls to NekoCon 14, a Japanese anime convention featuring everything from cosplay (a combination of the words costume and play referring to individuals dressing up in outlandish costumes) - to L.A.R.P. (Live Action Role Playing) in which attendees dress up as their favorite anime characters and become part of the action.
Attendees are welcome to attend various panels and workshops, purchase merchandise in the dealer's room, and be a part of main attractions like karaoke contests, art shows, and nightly dances. Saturday afternoon's cosplay, a convention favorite, invites members to portray their favorite characters and perform skits or display their costume-making expertise.
One of the longest running traditions at NekoCon is the art show, featuring work from both amateur and professional artists showcasing anime, fantasy, and sci-fi inspired work. Convention attendees are encouraged to browse all art selections, as well as make bids on selected pieces that are currently up for sale. The art auction on Sunday, November 6, will allow conventioneers the opportunity to finalize or make any changes to their bids. There is no fee to display art.
Different from the art show and art auction is the artist alley, an area designed to allow nonprofessional and semiprofessional artists to display, create, and commission their own traditional work in formats ranging from models, t-shirts, calendars, drawings, posters, and more. The artists are encouraged to display and sell their own merchandise. While fan art is not banned from the alley, the sale of fan art is restricted and will be strictly policed for copyright infringement. (An example of fan art would be an artist selling HIS/HER rendering of Wolverine though the artist did not create Wolverine).
New to NekoCon this year is the Japanese Fashion Show, DJ Spin Cycle Contest, Asian Ball Joint Doll Tea Party, and expanded panel rooms. In addition, there will be World Premiere showings of Funimation's new show "Chaos; head". Other major highlights include an AMV contest, as well as a dealer's room where fans can purchase DVDs' CDs, posters, wallscrolls, manga, idol cards, and more.
Other NekoCon 14 featured panelists include Garth Graham, Danny Kang, Charles Dunbar, Zhao Chen, Rukan Shao, and Lord Ramirez.
NekoCon 14 Hours:
Friday, November 4: 12:00 p.m. – 2:00 a.m.
Saturday, November 5: 8:00 a.m. - 2:00 a.m.
Sunday, November 6: 8:00 a.m. - 5:00 p.m.
Artist Alley Hours:
Friday, November 4: Noon- 10:00 p.m.
Saturday, November 5:10:00 a.m. – 10:00 p.m.
Sunday, November 6: 10:00 a.m. – 4:00 p.m.
NekoCon 14 Memberships:
Regular Child
(7 yrs. And up) (6yrs. & under)
At the door
(full membership) $50 FREE
At the door (One Day Trial Membership)
(Friday Nov. 4 only) $35 FREE
At the door (One Day Trial Membership)
(Saturday Nov. 5 only) $40 FREE
At the door (One Day Trial Membership)
(Sunday Nov. 6 only) $30 FREE

Entrance is good for a one- year membership to NekoCon. Everyone who pays admission to NekoCon will receive this membership, entitling them to newsletters and announcements regarding future events and activities.
For more information on NekoCon 14, check out http://www.nekocon.com or email info(at)nekocon(dot)com.
Hampton Roads Convention Center
1610 Coliseum Drive
Hampton, VA 23666
757/952-NEKO
Partially bordered by the Hampton Roads harbor and Chesapeake Bay, Hampton, with the 344,000 sq. ft. Hampton Roads Convention Center, is located in the center of the Hampton Roads metropolitan area. Hampton is the site of America's first continuous English-speaking settlement and is home to such visitor attractions as the Virginia Air & Space Center and Riverside IMAX ® Theater, Hampton History Museum, harbor tours and cruises, Hampton University Museum, Fort Monroe, award-winning Hampton Coliseum, The American Theatre, among others.
###