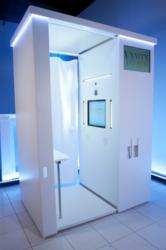 The best part is that no matter who goes into the photo booth the response is the same: all smiles!
New York, NY (PRWEB) October 14, 2011
With photo booths gaining popularity, Incredibooths has launched an entire new line of luxury photo booth rentals starting with it's newest design, The Vanity. This new design is light years away from yesterdays dusty photo booth relic that sits in the corner of the neighborhood bowling alley. Everything from the cameras used to capture the images, the printers that print them and all the gadgetry in-between has tech hungry party goers and hosts going crazy.
Dennis Sea of Incredibooths, a New York photo booth rental company says that,"The photo booth business is booming! Our clients come to us for one reason: they want the best. They aren't interested in the same ancient looking photo booths and technology they've seen since they were kids. They want the classic photo booth experience but want it packaged up in a new, trendy sexy high tech photo booth. That's why our new line of luxury photo booths does so well, we just give them what they want!"
So what kind of things do today's party planners look for in a photo booth for rent? Here are some hot features which help separate the best from the rest:
Canon DSLR Cameras - overkill? Perhaps, but these professional grade cameras are now what's behind the wall of the hottest photo booths in town. Perfect in a wedding photo booth.
Instant email and facebook sharing - guests take their photos and moments later the photo can be shared via email or facebook! Must have!
HD Video Messages - thats right, the photo booth has gone multimedia!
Super fast printing - unlike traditional chemical booths, today's photo booths will print your photo strips in just about 7 seconds! Now thats fast!
4 x 6 Bonus Prints - So you took a set of 4 pics for the strip but pic #3 is just perfect? Now with a simple tap you can print just that photo as a 4 x 6 enlargement instantly. Pretty Cool.
External HD Screen - voyeurism at its finest! Guests see themselves on an external high-definition screen as a photo slideshow shows off photos take inside the booth.
When looking to rent a photo booth this is a great starting ground.
Even celebrities have recently gotten in on the photo booth craze. "We had Brittany Spears use one of the photo booth models we rent for an MTV VMA promo commercial recently, the Fox 5 news team partied with one at Chelsea Piers and a few weeks ago we helped out when Countess Luann of the NY Housewives needed to rent a photo booth out in Bridgehampton" says Dennis of Incredibooths. "The list goes on. The best part is that no matter who goes into the photo booth the response is the same: all smiles!"
The results seem to stand the test of time,everyone loves a photo booth. Perhaps it's something about the magic of crowding in, closing the curtain and smiling for the camera? Or perhaps it's the modern look and tech happy features packed into today's ultra modern photo booths? Or maybe it's a great combination of the two? Either way, when party planners think of unique and fun options they think to hire a photo booth.
Dennis Sea is the owner of Incredibooths! Inc, a New York based photo booth rental company specializing in luxury photo booth rentals. Dennis has been in the event rental and planning business for over 10 years.
# # #