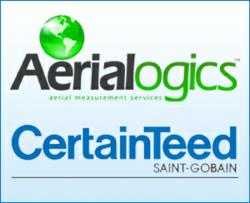 "..across the board, its an impactful technology that gives users a competitive edge."
Nashua, NH (PRWEB) October 14, 2011
Aerialogics, a premier supplier of aerial measurement services to the U.S. roofing and insurance industries, announced today a technology partnership with CertainTeed Corporation, a leading North American manufacturer of building materials. Under terms of the agreement, CertainTeed will utilize Aerialogics' aerial measurement technology across a host of corporate applications and provide customized aerial measurement services to its credentialed roofing contractors. As an in-house professional estimating tool, aerial measurement reporting promises to reduce contractor's estimating costs and improve sales productivity and results.
"Aerial measurement services are a cost-effective solution we are excited to extend to our credentialed contractors and utilize internally as a component of corporate incentive programs, warranty documentation and solar estimating," said Jay Butch, Director of Contractor Programs at CertainTeed. "We are pleased Aerialogics will fully customize their services for contractors making it easy for them to use aerial measurements to lower estimating costs and raise close ratios, with custom reports serving as compelling sales presentation tools," said Butch, adding, "across the board, it's an impactful technology that gives users a competitive edge."
"Aerialogics is proud to partner with CertainTeed, North America's largest building materials manufacturer," said Sean Green, CEO of Aerialogics. "We are excited to tailor our technology to CertainTeed's specific needs and provide a customized, value-added service that promises to improve the business results of their credentialed contractors--we are looking forward to a long and productive collaboration," stated Green.
AERIALOGICS is a pioneer in aerial measurement services for the U.S. roofing and solar industries. Our expertise converting aerial images of properties into accurate, diagramed measurements in 24-hours-or-less reduces estimating costs and improves productivity. For more information please visit: http://www.aerialogics.com.
CERTAINTEED, headquartered in Valley Forge, PA., has helped shape the building products industry for more than 100 years. Founded in 1904 as General Roofing Manufacturing Company, the firm's slogan "Quality Made Certain, Satisfaction Guaranteed," quickly inspired the name CertainTeed. Today, CertainTeed® is North America's leading brand of exterior and interior building products, including roofing, siding, fence, decking, railing, trim, foundations, pipe, insulation, gypsum, ceilings and access covers. A subsidiary of Saint-Gobain, the world's largest building products company, CertainTeed and its affiliates have more than 6000 employees and more than 65 manufacturing facilities throughout the United States and Canada. The group had total sales of approximately $3 billion in 2010. For more information please visit: http://www.certainteed.com.
###