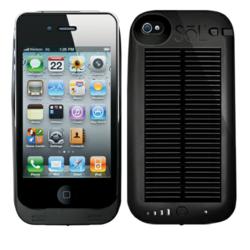 I like the Sol case. It feels nice and sturdy in my hand, packs a ton of power, and has the added awesome solar perk.
- Lex Friedman, Macworld.com
Miami, FL (PRWEB) October 14, 2011
The SoL Hybrid™ Power Pack is a new iPhone charging device that will keep an iPhone powered up for days. The device also charges very fast (three times faster than a wall charger) by utilizing its revolutionary Rapid Charging Technology. Additionally, the case has a built-in flashlight and comes with three free screen protectors. The SoL Hybrid™ Power Pack is like nothing on the market. Not only can the device be used as a fast-charging power pack on the go, but also as a full time protective charging case. No other charging accessory in the world will keep an iPhone as connected as the SoL Hybrid™ Power Pack.
The Patent Pending SoL Hybrid™ Power Pack is a product that includes an Internal 2,400 mAh Battery, Rapid Charging Technology, Priority Charging, a built-in super bright LED flashlight and comes with a mini 5 pin USB charging cable as well as 3 free screen protectors (Mirror, Privacy and Fingerprints).
In the Press:
The SoL Hybrid™ Power Pack has been a featured product on the NBC's Today Show and has been named one of the best iPhone charging accessories in the nation by such industry leaders as Macworld.com. Recently, the SoL Hybrid™ Power Pack was in the hands of the Stars at the 2011 Emmy Awards where actors and actresses from such shows as The Office, Sex in The City, Breaking Bad and The Good Wife were provided cases as gifts to keep them connected during the ceremonies.
Tech Specs:
SoL Hybrid™ Power Pack
Price: $89.95
Shipping: FREE Shipping within the continental 48 U.S. States on orders $89.95 and up
Dimensions (mm): H113 x W66 x D21
Input: DC 5V, 500mA- 2.0 Ah
Output: DC 5V, 700mA- 2.0Ah
Power Display: 25% 50% 75% 100%
Weight: 66.5g
Color Available: Black
Key Features:

Fits iPhone 3G, 3GS, 4, 4S and iPod Touch 2G, 3G.
Internal battery extends battery life by 300%.
Charges three times faster than a wall charger - Rapid Charging Technology.
Charges while you're working, playing, running or relaxing.
Charges anywhere the sun shines and by indoor lighting.
Includes priority charging.
Includes super bright LED light for use as flashlight.
Stays cool; never overheats.
Safe to use.
Full access to touch screen and all iPhone/iPod Touch features.
Clean, green energy source.
Ergonomic design; slip free handling!
Durable, lightweight and stylish.
USB and Apple 30 pin connections.
Includes 3 screen protectors: (Mirror, Privacy, and Fingerprints).
Patent Pending.
The SoL Hybrid™ Power Pack is currently available for the iPhone 3G, 3GS, iPhone 4, 4S and the iPod Touch 2G, 3G.
For more information, please visit: http://www.solmarketplace.com
About SoL Marketplace:
SoLMarketplace.com provides innovative solutions for the mobile world and is committed to improving our customer's mobile lifestyle by providing the most unique accessories in the market today. SoL. Bright Idea. Brilliant Solution.
###