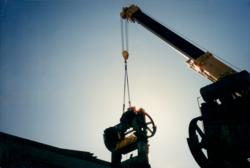 The newly re-designed website will assist the company's numerous customers in accessing a variety of forklift certification and training opportunities and their personal accounts with CertifyMe.net.
Phoenix,AZ (PRWEB) October 14, 2011
CertifyMe.net, an online equipment training and forklift certification website, has re-designed its website to streamline the customer experience. Existing customers can now find a more user-friendly website and easier access their free 3 year recertification options on heavy equipment certification programs.
CertifyMe.net provides veteran forklift operators all the steps needed to train new forklift operators on the job and meets all the OSHA standards for safety compliance. The newly re-designed website will assist the company's numerous customers in accessing a variety of heavy-equipment training opportunities and their personal accounts with CertifyMe.net.
The program enables employers to create on-site training of forklift operators, saving them from expensive off-site programs that cost the business lost work, overtime hours and thousands of dollars.
"Many businesses believe that government regulations require them to purchase expensive, second-party training programs for their workforce. This can be prohibitively expensive and very inefficient," says Tom Wilkerson, founder of CertifyMe.net. "We offer training program tools to seasoned forklift operators that 'trains the trainer' how to instruct new operators. The package includes everything needed, including certificates and certification wallet cards showing compliance with OSHA standards. In many cases, this creates an even safer workplace environment because the trainers are actually well acquainted with the specific equipment and unique workplace in which the operators will be functioning. Each piece of equipment has its own nuances and every workplace has its own potential hazards. We recognize it is safest, most efficient, and most cost effective to utilize a businesses existing employee expertise to benefit the workplace."
As part of the employee training kit, CertifyMe.net offers free 3-year re-certification opportunities, saving even more expense for businesses that use heavy equipment.
The program, which is available at http://www.CertifyMe.net, costs as low as $49.95 per trained employee. The robust program is self-paced and offers opportunity to train employees whenever and wherever it is most effective for the employer and staff. The program typically will be utilized at the specific workplace, allowing trainers to highlight unique safety hazards and conditions of the business. In addition the program offers equipment-specific training for different makes and models of the heavy equipment being used.
When completed, the program provides all required proof of 3 year recertification that OSHA requires, including certificates and compliance cards for employees.
The forklift training program is available in a variety of formats. It can be downloaded from the Internet, or a training kit can be sent by mail.
CertifyMe.net was created in 1999 as a provider of workplace training programs. Initiated by professional rigger Tom Wilkerson, the company's goal is to provide simplified, efficient and cost-effective training programs for businesses. CertifyMe.net programs are designed to offer comprehensive training by experienced, seasoned operators in the existing workplace, thereby creating a safer environment while avoiding unnecessary off-site training expenses and overtime fees. Since its inception, thousands of companies throughout the nation have utilized CertifyMe.net programs, including Fortune 500 companies and government agencies. For more information about the forklift certification and training program, visit http://www.CertifyMe.net.
###