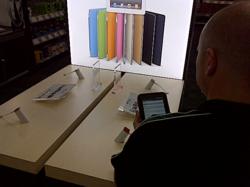 Their solution supported a large number of mobile platforms, which allowed us to place the technology in our field's hands without bearing the expense of upgrading all of our devices.
Reston, VA (PRWEB) October 14, 2011
Canvas announced today that Brofort Inc., a leader in services for the retail industry across Canada has deployed its mobile Business App solution to their field workers nationwide. Brofort specializes in retail roll-outs, fixture installation, merchandising and interior remodeling across multiple stores typically in very condensed time frames. Some of Brofort's premier clients include Best Buy, Safeway, and Staples.
Brofort has adopted Canvas as its primary mechanism for site work verification and store level sign-off. The implementation of Canvas has resulted in a significant increase in the speed at which this vital information is being retrieved from the field and is providing a dramatic improvement in the accuracy of this data.
Prior to Canvas, sign-off sheets were filled out by installers and then faxed to a central location. Once received, the forms were downloaded from a fax server, sorted and then uploaded to a separate internal site. In parallel, photos of completed work would come in via separate e-mails and again downloaded, reviewed, sorted and uploaded to the site. There were many challenges with this approach beyond the obvious time delays and resource requirements. Often times installers would inadvertently forget to complete important sections of the paper forms, handwriting in some cases was illegible, and the quality of the fax image frequently was less than optimal and difficult to read.
With the implementation of Canvas, data is now being collected in real-time on field worker's Samsung Galaxy Android Tablets and BlackBerries. The end result is an auto-generated electronic form (PDF) complete with critical store by store installation status as well as photos of completed work imbedded within the same electronic document. Because the Canvas service enables users to mark data collection fields as mandatory, the key pieces of information that once could be missing, is now being consistently captured from the field.
"We looked at a number of solutions but settled on Canvas. Their solution supported a large number of mobile platforms, which allowed us to place the technology in our field's hands without bearing the expense of upgrading all of our devices. With Canvas's flexible pricing options, we were able to custom fit the right plan to the right mobile worker profile based on their frequency of use ", stated Rick Whitley, Vice President.
"Brofort's deployment of Canvas has not only improved their own internal processes but continues to differentiate them from competitors in their space. With Canvas they can also self serve their own needs, building more applications that continue to keep them ahead of the game." added James Quigley CEO, Canvas.
About Canvas
Canvas makes it easy to publish data collection apps on smartphones and tablets as well as other devices such as laptops, netbooks and barcode scanning devices. Canvas reduces paper consumption, redundant data entry, and excess processes for businesses and mobile professionals. The Canvas software service enables mobile professionals to collect information using their mobile devices and share that information across their business community. This information can even be downloaded directly into popular back-end systems with off the shelf plug ins for popular solutions like QuickBooks and QuickBase.
Canvas also offers the first mobile business app store of its kind, allowing businesses from diverse industries to find mobile applications specific to their business that work on Android, Blackberry, Apple, and Windows mobile/desktop devices. Every Canvas application is customizable by our subscribers, and comes with GPS/location, image capture, electronic signatures and accessibility to a customer's own data like parts catalogs and patient records. To date, Canvas has automated over 250,000 manual processes/paper forms, making it one of the fastest growing mobile app services for businesses. To learn more visit http://www.GoCanvas.com.
###