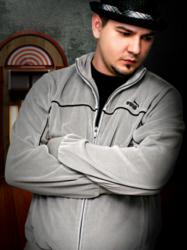 Local musician, Bazzy, is starting to gain international attention
Atlanta, Georgia (PRWEB) October 17, 2011
Atlanta based musician, Aldin Konjic aka Bazzy, is starting to gain international attention with his musical talent. This self-promoted artist is on the scope of media frenzy with his latest few releases. Already interviewed live by TV stations, as his new song "R.I.P. Lullaby" reaches the Top 10 playlist and gains radio play.
It wasn't long ago when we first heard of this young inspiring musician. Some odd years ago he has made headlines on NBC TV and cover newspaper stories such as Atlanta Journal Constitution. Born in Bosnia and Herzegovina, raised around the world, this artist is using his life experiences as main recipe for his musical inspiration. Lyrics, in which he expresses his emotions, carry deeply hidden messages that can be portrayed only by peeling off one layer at the time. His soothing voice that carries burden of pain, combined with his music leaves people's bodies tense.
This independent artist is producing unique music that is pulling in listeners world-wide and getting international media attention. For more information you are invited to visit his official website at http://www.bazzyworld.com. Let's see what happens next as this artist keeps releasing crowd pleasing music and pursues his musical career. Perhaps a major record deal awaits in the not so long future.
For more information, visit: http://www.bazzyworld.com.
All media contact: Aldin Konjic, 678.499.4225
###