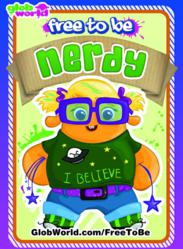 'So many anti-bullying initiatives out there are of course well intentioned, but unfortunately they fail to really connect with kids and make an impact.'
-- GlobWorld's Founder, Rebecca Nachlas
(PRWEB) October 17, 2011
GlobWorld.com -- an edutainment-focused online community for kids (12 and under) -- is set to launch their "Free to be!" trading card campaign. This public service campaign centers around the free distribution of a collection of trading cards to schools throughout the country. Each card features a different glob character embodying a distinct, individual trait... "Free to be... wild!"; "Free to be... nerdy!"; "Silly...! Funky...! Fabulous...!"
The free trading card campaign is part of GlobWorld's ongoing "Free to be!" mission statement, which aims to further the belief that only through accepting and celebrating what makes each of us unique individuals, children will more effectively move beyond the current culture of pervasive bullying.
Schools and teachers from around the country have already requested "Free to be!" trading cards for more than 27,000 students; and GlobWorld says there are still free trading cards available for educators that align with GlobWorld's anti-bullying objective.
"So many anti-bullying initiatives out there are of course well intentioned, but unfortunately they fail to really connect with kids and make an impact," says GlobWorld's Founder, Rebecca Nachlas. "What we've discovered is that through our kid-friendly glob characters, we're able to more effectively engage children with this critical message."
GlobWorld will also offer participating educators the opportunity to take the lessons a step further by utilizing interactive online components to the "Free to be!" trading cards. Students will be able to design their own custom glob characters to represent their unique sensibilities and perspective, plus the chance to join fully moderated online discussions about bullying and the importance of acceptance.
The "Free to be!" trading card campaign marks the second year in a row that GlobWorld has offered schools free educational materials around the anti-bullying movement. "Free to be!" is an evolution of last year's OMGbullyfree campaign, which featured its own set of free trading cards and an animated PSA video used in elementary schools across the country during bullying awareness seminars.
Though October is our nationally recognized Bullying Prevention Month, every month is anti-bullying month in GlobWorld. The entire site experience, from games to activities like creative writing and art contests -- is geared toward teaching kids to treasure their own individuality, and appreciate the diversity in others.
If you are a teacher or school official who would like to request "Free to be!" trading cards for your students, please contact GlobWorld's Director of Content, Scott DeVaney, via email: scottd(at)wishb(dot)com
For press inquiries, please write to press(at)wishb(dot)com.
# # #