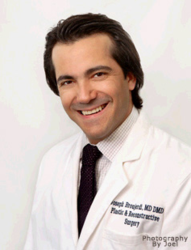 Beverly Hills, CA (PRWEB) October 18, 2011
In addition to practicing plastic and reconstructive surgery, Dr. Broujerdi is also a board certified oral and maxillofacial surgeon, sub-specializing in sleep apnea surgery in Beverly Hills. Dr. Broujerdi has announced the launch of a new, patient-focused website created by medical website design leader, ProSites, Inc. Dr. Broujerdi's practice is utilizing the website to educate the community on the technical advances in oral and plastic surgery. The website includes links to informative material regarding 3dMD Technology and ConeBean CAT Scans, as well as presentations on procedures such as craniofacial surgery.
The website possesses interactive attributes including educational videos and a free photo gallery feature to help patients make better informed decisions about oral and plastic surgery. Current and prospective patients now have access to information about providers, helpful publications, before and after photos of aesthetic facial procedures, and other informative content when they visit the website. Some of the services offered by Dr. Broujerdi include:
Facial Cosmetic Surgery
Oral and Maxillofacial Surgery
Craniofacial Surgery
The website also utilizes extensive search engine optimization techniques to reach patients and local consumers who are searching for relevant information about corrective jaw surgery in Beverly Hills.
About Joseph A. Broujerdi, MD, DMD:
Dr. Joseph Broujerdi graduated from the University of Pennsylvania, School of Dental Medicine. After graduation, he continued his education by receiving training from schools including Stanford University Medical Center and Wayne State University. In addition to his extensive experience in cosmetic and reconstructive surgery, Dr. Broujerdi devotes time and resources to medical missions in less developed countries. There he works with children with congenital anomalies and traumatic deformities, such as cleft lip and palates, and burn victims. Dr. Broujerdi is an active staff member at Cedars Sinai Medical Center, Olympia Medical Center, and St. John's Health Center. For more information on Joseph A. Broujerdi, MD, DMD, please visit the website at cmfsinstitute.com.
###