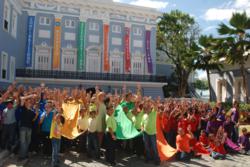 Los Angeles, CA (PRWEB) October 16, 2011
Putting the focus on building a culture of kindness through education reform, more than 8 million students, parents, teachers, and volunteers will gather in thousands of schools across the country and around the world to participate in service learning projects, reclaim neighborhoods, volunteer, and celebrate good character during the 18th annual Worldwide Character Counts! Week on October 16-22.
"Teaching youngsters about the importance and nature of character is the antidote to the disease of cynicism in our society," said Michael Josephson, founder of the Character Counts! Coalition, a partnership of hundreds of educational and youth-serving organizations committed to improving the ethical quality of America's young people. "It's rather extraordinary in this day and age to mobilize thousands of schools and millions of kids to proclaim to the world that character counts."
Some of the ways communities will participate in Character Counts! Week are:

Community-service days
Intervention programs
Anti-bullying programs
Essay and poster contests
Character marches
Red Ribbon Week tie-ins
Every year since the inception of Character Counts! Week, the President, the U.S. Senate, and governors and mayors have supported the largest annual observance of good character in the nation. This year, representatives from 60 countries have signed up for Character Counts! Week free resources.
Earlier this year, President Obama and first lady Michelle Obama hosted parents, educators, policymakers, nonprofit leaders, officials, and students from across the country at the White House Conference on Bullying Prevention. The conference put a spotlight on successful efforts to combat bullying in schools and communities, reminding us of our shared responsibility to ensure that safety and tolerance are priorities in every school and community. That's the Character Counts! mission: to help students achieve a brighter future through the teaching of universal values, better decision-making, and a culture of kindness.
Puerto Rico began implementing Character Counts! in their schools a year ago, and their data shows just how much Character Counts! can accomplish:
89% said their students are more engaged in their education
80% reported less bullying behavior
79% said student attendance has improved
Parent support was unprecedented: 93% said it has improved their child's commitment to learning
And in Downey, California:

Since Character Counts! was implemented, annual district Academic Performance Index scores rose 5.12%. These gains represent an increase of 63.1% over the previous three years when scores only rose 3.14%.
High school graduation rates have been over 92% since Character Counts! implementation, demonstrating increased student citizenship. This number is even more impressive compared to the statewide graduation rate of 68.3%.
Since Character Counts! was implemented, the total number of suspension days decreased from 6417 to 3757, a decrease of 41.45%. This decrease generated a costs savings of $85,120, allowing resources to be released to provide greater services to students.
The total number of expulsions fell 64.19%, from 229 to 82 after Character Counts! implementation.
Reflecting a "let no stone be unturned" policy, the success of Character Counts! is due to its broad ambitions and the design which calls for total integration in all aspects of school life in order to achieve four inter-related outcomes:
1. Instilling educational values, the love of learning, and academic skills.
2. Build good character by instilling core ethical values.
3. Enhance emotional intelligence and positive life skills.
4. Improve the school climate so that all students feel physically and emotionally safe.
For information on how you can get involved in Character Counts! Week 2011, call 800-711-2670 or go to http://www.CharacterCounts.org.
The nonprofit Josephson Institute of Ethics, a nonpartisan, nonsectarian organization based in Los Angeles, created and administers Character Counts!, the nation's most widely implemented character development program. Committed to improving the ethics of America's young people, it is supported by a coalition of hundreds of national and local organizations, including the PTA, YMCA, Boys and Girls Clubs, Big Brothers Big Sisters, AYSO, Little League Baseball, American Federation of Teachers, National Association of Elementary School Principals, National Association of Secondary School Principals, and the American Association of School Administrators. Character Counts! provides free character development resources for teachers year-round.
###