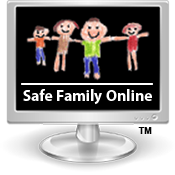 Giving a child unfiltered, unsupervised access to cyberspace is like giving him the keys to a Ferrari and a bottle of Jack Daniels. There's just going to be a crash, and someone is going to get hurt.
San Diego, CA (PRWEB) October 15, 2011
Brian Scott Archibald, President of La Jolla-based CyberSafeSolutions, Inc., has begun a new business venture to help San Diego families protect themselves online from cyber threats of all kinds.  Safe Family Online (http://SafeFamilyOnline.com) delivers personalized training and technical solutions to promote safe online systems and practices. 
A successful IT professional with clients such as NASA Johnson Space Center, National Geographic Television, and The American Museum of Natural History, Mr. Archibald now works directly with fellow San Diegans in the safety and privacy of their own homes to ensure that their computers, networks, cellphones, and mobile computing devices are child-safe, teen-safe, and family-safe—what he calls being "CyberSafe": protected from cyber threats of all kinds through parental controls, monitoring, and content filtering software, secure and robust networking systems, and proactive "CyberSmart" practices.
With Safe Family Online, Mr. Archibald also offers "CyberSmart CyberSafety Seminars," which he presents under the moniker of "The CyberSafe Guy."  Mr. Archibald offers these informational seminars at local YMCAs, libraries, and other public and private venues as a community service to help San Diegans better understand the complexities and risks that we and our children face every moment spent in cyberspace.  Through building active partnerships with local San Diego parents, school foundations, and other family-based organizations, Mr. Archibald seeks to help keep San Diego children safe on the Net, as well as on their cellphones, gaming systems, and mobile computers. 
Says Mr. Archibald of his new venture: "I'm a concerned father of two elementary school-aged daughters just starting to use the Net, but with the technical chops of a seasoned professional who can understand the technological, social, and emotional aspects of cyber threats and their consequences."
Mr. Archibald has been a corporate IT professional over the past three decades, spending the last nine years helping build a local cultural attraction retail management company from $15 million to $130 million in annual sales. At this juncture, Mr. Archibald chose a different tack in creating his new company. He explains, "Instead of just getting another job in the corporate world, I decided to start my own computer support business, A Prescription for Your PC (http://aRx4PC.com), focusing on residential PCs, Macs, printers, and home and small business networks and systems. But one night, my wife and I were talking about how dangerous the Internet, mobile phones, social networking, and all this new technology has become for our kids. Then the lightbulb popped on, and the idea came to me: Folks need help protecting themselves and their families from all these cyber threats. But where do they get it? There are countless websites filled with static information about online safety; but nobody is actively working directly with families or offering personalized service to help them do anything about it. So, I began Safe Family Online."
 
Mr. Archibald has begun a strategic partnership with local San Diego businesswoman Tracie Arlington. Her Play It Safe Defense Strategies for Women and Children program (http://PlayItSafeDefense.com) has trained thousands of people on self-defense and anti-bullying tactics.  Ms. Arlington has been featured on the Dr. Phil Show and local San Diego broadcast television.  She has a proven track record in the arena of physical bully defense. Says Mr. Archibald of the partnership: "Tracie handles physical bullying defense training while I handle cyber bullying defense strategies and technical solutions.  Together, we are a strong and motivated tag-team united against bullying."
To ensure his clients' confidence, Mr. Archibald has been screened by the California Department of Justice, the San Diego Police Department, and the San Diego Unified School District. He routinely volunteers his IT services at his neighborhood public elementary school to help forward their technical programs. With his wife and two daughters, Mr. Archibald's ties to the San Diego community span four generations now. He is a San Diego native whose grandparents moved from Northern California to Encanto in 1931, and whose grandfather, Kenneth Archibald, was a pioneer in the San Diego Unified Schools at Gompers Middle School and San Diego and Lincoln High Schools.
"Most parents don't fully understand the risks that they and their children are taking each and every time they go online," says Mr. Archibald. "I just want to give us all a fighting chance to keep our families safe.  I love San Diego; and I see this as a great way to support the families of my home town."
For more information about Safe Family Online and The CyberSafe Guy seminars, email Brian Archibald at CyberSafeGuy(at)SafeFamilyOnline(dot)com or call 855-CYB-SAFE (855-292-7233).
###