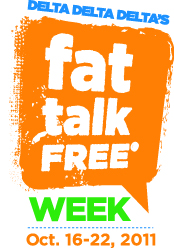 Arlington, TX (PRWEB) October 13, 2011
Delta Delta Delta Fraternity announces the fourth annual Fat Talk Free® Week sponsored by Succeed Foundation will take place October 16 – 22, 2011. Fat Talk Free Week is a weeklong program to raise awareness about positive body image by eliminating damaging effects of fat talk and the thin-ideal standard of beauty.
"Nearly 10 million women are dealing with eating disorders in the United States, which is more than are suffering from breast cancer," said Dr. Carolyn Becker, psychology professor, Trinity University. "It's time to face this issue head on by taking control of our own destinies, our own bodies and our own inner dialogues."
Delta Delta Delta, Dr. Becker, program partners and sponsors ask women and men across the country to visit http://www.endfattalk.org to take The Pledge, the first of three steps to help End Fat Talk and become a Champion for Change. The Pledge is a promise to eliminate fat talk in conversations with others and a commitment to help spread the message.
Fat Talk Free Week is an extension of The Center for Living, Learning & Leading's
Reflections: Body Image Program, the first evidence-based, peer-led body image education and eating disorder prevention program. Delta Delta Delta partnered with The Center to support and further the cause, which reconfirms the vision of the fraternity's founder. For more information, please visit thecenter.tridelta.org.
The official Twitter hashtag for Fat Talk Free 2011 is #EndFatTalk. Follow us @EndFatTalk on Twitter or on Facebook and join the conversation.
About Tri Delta
Founded in 1888, Tri Delta is a leader among social Greek organizations through its passion for progress and visionary thinking. Through partnerships with nationally recognized organizations like St. Jude Children's Research Hospital, award-winning publications like The Trident, and innovative collegiate and alumnae initiatives, Tri Delta is committed to leveraging our timeless values to revitalize the sorority experience. For more information, please visit http://www.tridelta.org or call (817) 633-8001.
# # #