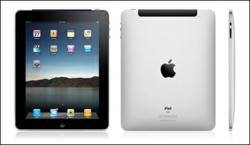 Who Doesn't Want One?
(PRWEB) October 14, 2011
The BaconRealtyGroup.com website out of Southern Florida is giving away iPads until the end of the year. Without spending a dime, you can win an iPad up until the end of October for liking their Facebook page. What's more, you can also get an iPad for completing a transaction with them before the end of the year.
The Bacons have been a huge part of the real estate game in St Petersburg and Clearwater, FL since they showed up on the scene. Due to their unparalleled client care, they've had no problem getting referrals from their previous clients. They've really made a point to make sure that the people that they represent are treated with the utmost respect and together, Dan and Christine Bacon do whatever it takes to get their clients into their new house or sell their previous one.
Because both of them really like the iPad 2 from Apple, they thought it would be a great means of attracting some new customers and alerting them to their online presence. They are giving away as many iPad 2's as possible for all their clients that meet their criteria.
You have one of two ways to win an iPad from BaconRealtyGroup.com:
First of all, if you visit their iPad 2 giveaway page, you'll see that sharing that page with your Facebook friends and then liking the BaconRealtyGroup.com Facebook page will automatically enter you to win. On October 31st the winner will be chosen at random and will be contacted by Christy to let them know they've won and mentioned on the Facebook page as well.
Alternately, any new client who has contacted Dan or Christine initially on or before September 1st, 2011, are represented by them during their transaction and finally, close on a purchase or sale of $250,000 or more by the end of 2001 will also receive an Apple iPad 2 after the sale goes through.
There really is no limit to the number of iPads that the Bacons can give away this year. If you're in the market for a sale or purchase, let the iPad lead you to the greatest one-two combo in Florida's real estate services market and give Dan and Christine Bacon a call.
###