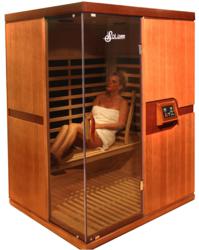 America's #1 New Anti-Aging Tool
Denver, Colorado (PRWEB) October 14, 2011
LuxSauna reviews explain the benefit of thinking twice when reading marketing hype. There is a significant amount of marketing hype and Mocked up studies by companies selling infrared saunas on the internet. Most of them new to the market and infrared sauna technology, demonstrating online that their infrared heater technology is made with one single material which if purported to be superior for producing far infrared heat – Don't be fooled, you need to know the facts before you waist your hard earned money.
When testing materials for their properties in generating effective far infrared heat production we evaluate "emissivity". Emissivity demonstrates a measure of an object's ability to emit true far infrared energy. Emissivity ranges in value from zero (0) (shiny mirror) to ONE (1.0) (blackbody – which is the emission of the human body).
Raytek is one of the leading infrared instrument manufactures and have accurate emissivity tables on their website. When reading this table, please note the values in 5-14 (?m), micron ranges - (this symbol ?m stands for "microns") the "vital" range for healing the human body. You can clearly see ceramic has an emissivity of .95 - the absolute closest to a perfect black body at 1.0. This demonstrates exactly why the patent pending Carbon Boost technology using both carbon and ceramic heaters that we use in our LuxSaunas are the most effect for benefiting from infrared saunas today. Carbon Boost Technology heaters are proven to be far more effective and vital to your health.
See the charts here: Emissivity Table for Non-Metals (Ceramic vs. Carbon)
LuxSauna reviews, reports and clinical studies of our patent pending Carbon Boost Technology demonstrate the evidence that users would want to know; this combination of ceramic and carbon boost far infrared productivity by more than 300%. This heating technology produces real benefits because of the heaters ability to penetrate the human body very deep and very hot. This deep penetration is the source of healing; weight loss, detoxification and eliminating acids and toxins that are the source of most disease in today's environment. Using an infrared sauna on a daily basis may be the fastest and easiest solution for eliminating the cause of so many ailments. Since toxins, stored for years in the body bankrupt the body's ability to heal itself, expediting the eliminating of these acids and toxins is one of the quickest ways to enable your body to heal itself. With LuxSauna bankruptcy is not an option. With the use of LuxSauna complaints of health issues will become a thing of the past. Find out how you can get access to using America's number 1 anti-aging tool.
###