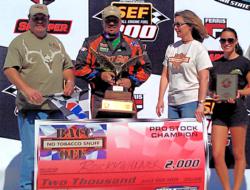 "This was fun," said Warner, who drove the West End Towing No. 79. "Last year I led all 25 laps (of the BACC-OFF Pro Stock Championship 25). This year we had to earn it big-time. We started 11th and had to pass some good cars to get to the front."
Syracuse, NY (PRWEB) October 14, 2011
If Sunday afternoon's BACC-OFF Pro Stock Championship 25 was Rocky Warner's last Super DIRT Week appearance as a full-fender division regular, he certainly made it memorable. With a move to the DIRTcar Sportsman class in his plans for 2011, Gloversville, N.Y.'s Warner capped his Pro Stock career with a flourish, winning the division's 25-mile Super DIRT Week XL headline event at the one-mile New York State Fairgrounds for the second consecutive year.
The 30-year-old standout put on a show as he came on strong late in the distance to outduel Rob Yetman of Castleton, N.Y., and Pete Stefanski of Wheatfield, N.Y., for the $2,000 top prize. He started 11th, grabbed the lead from Stefanski on lap 20 and held off Yetman over the final circuits.
Yetman settled for second place, just 0.229 of a second behind Warner. Stefanski placed third, followed by polesitter Joey Ladouceur of Alexandria, Ont., and outside-polesitter Jocelyn Roy of Ste-Helene, Que.
"This was fun," said Warner, who drove the West End Towing No. 79. "Last year I led all 25 laps (of the BaccOff™ Pro Stock Championship 25). This year we had to earn it big-time. We started 11th and had to pass some good cars to get to the front."
After quietly inching his way forward during the caution-plagued first 15 laps of the feature, Warner turned up the wick down the stretch. He announced his checkered flag intentions by passing polesitter and early leader Joey Ladouceur of Alexandria, Ont., for third on lap 17 and then overtaking Yetman for second one circuit later. Warner then began to pressure Stefanski, who had grabbed the lead from Yetman on lap 17. Warner made his move on lap 20, nosing ahead of Stefanski at the start/finish line and then turning back Stefanski's bid to regain command through turns one and two.
"I knew Rob was close but I didn't realize how close he was until I saw his nose coming off of (turn) three," Warner said of the final tour. "It was an awesome race and those guys made me earn it."
Warner was ecstatic after securing a victory at the historic Moody Mile. "A win is a win, but when you win a great race like this it feels a whole lot better," said Warner. "To be in the history books is awesome. Buzzie (Reutimann), (Gary) Balough, (Pete) Bicknell, (Brett) Hearn and (Billy) Decker have all won back-to-back (races) in other divisions, so to add my name to the list of guys with back-to-back wins here is special."
Warner said he has his race-winning Pro Stock up for sale as he plots his 2012 assault on the DIRTcar Sportsman ranks. He has already proven solid in the open-wheel division this season – he owns six triumphs at Glen Ridge Motorsports Park in Fayetteville, N.Y. – and hopes to pick up the pace even more as a Sportsman regular next season.
Six caution flags slowed the event, all during the first 15 laps. The most noteworthy incident of the feature was a lap-14 homestretch tangle involving Roch Aubin of Alexandria, Ont., and Corey Wheeler of Cornwall, Ont. Their tangle boiled over to pit road, where they banged together and were banished from further action.
Initially offered in wintergreen, cinnamon, and mint flavors, BaccOff™ straight non-tobacco chew was introduced in 1993 as the first chewing tobacco alternative with the taste, texture, and *spitability of real tobacco snuff. DipStop™ Inc. (maker of BaccOff™) was founded in 1991 by Russell Ralston to combat the critical health problems associated with smokeless tobacco by helping users break the nicotine habit. Family owned and operated in Selma Alabama, DipStop is one of several business units dedicated to the development and introduction of innovative products created to improve the health and well-being of its global customer base.
*spitability - The wherewithal to expel a reasonable amount of brownish liquid from between the lips with sufficient force to roll small bugs, stir up dust, and send dogs and cats running for cover.
###