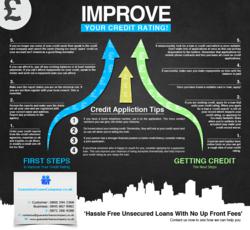 we hope we can grab the attention of consumers across the UK
Norwich, Norfolk (PRWEB UK) 14 October 2011
Guarantor Loans Company, a recent mover into the area of online finance guides and info-graphics, has just launched an online publication that gives a compelling overview of how to improve someone's credit rating. People who are turned on by this sort of thing may well find themselves following the steps laid out in the info-graphic. For others, they may still find it's a pleasant surprise.
The company, which is a trading name of Blacklisted Loans Limited, offers guarantor loans to consumers throughout the UK. The fact that these finance products come under the banner of alternative finance means the company has started looking into ways to help customers or even just visitors to their site.
Shelly Leake, Managing Director of the company said;
"We want to be a bit different from normal finance companies and engage with our customers in a more direct and helpful way. By releasing new material such as this, we hope we can grab the attention of consumers across the UK and hopefully get a good name for ourselves"
The company's blog has also undergone some changes over the past few weeks and will soon start to be updated with frequent information, guides and resources regarding money management, finance and other related matters.
If you want to view the new info-graphic release or find out more regarding the company, you can visit the web site at http://www.guarantorloanscompany.co.uk/guides/improve-your-credit-rating.html
###