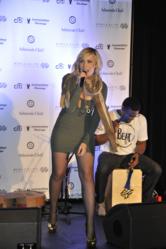 (PRWEB) October 13, 2011
At the Citi and American Airlines Admirals Club Lounge event at The Grove in Los Angeles, Natasha Bedingfield performed songs from her latest album "Strip Me."
About Citi
Citi, the leading global financial services company, has approximately 200 million customer accounts and does business in more than 160 countries and jurisdictions. Citi provides consumers, corporations, governments and institutions with a broad range of financial products and services, including consumer banking and credit, corporate and investment banking, securities brokerage, transaction services, and wealth management. Additional information may be found at http://www.citigroup.com.
About American Airlines
American Airlines, American Eagle and AmericanConnection® serve 250 cities in 50 countries with, on average, more than 3,600 daily flights. The combined network fleet numbers more than 900 aircraft. American's award-winning website, AA.com®, provides users with easy access to check and book fares, plus personalized news, information and travel offers. American Airlines is a founding member of the oneworld® Alliance, which brings together some of the best and biggest names in the airline business, enabling them to offer their customers more services and benefits than any airline can provide on its own. Together, its members serve approximately 900 destinations with more than 9,000 daily flights to 145 countries and territories. American Airlines, Inc. and American Eagle Airlines, Inc. are subsidiaries of AMR Corporation. AmericanAirlines, American Eagle, AmericanConnection, AA.com, and AAdvantage are trademarks of American Airlines, Inc.
# # #