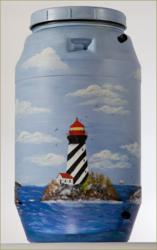 "Through our Rain Barrel Program and our Campaign to Reforest American, we hope to raise awareness and encourage our customers to join us in preserving our natural resources."
Madison, Virginia (PRWEB) October 14, 2011
They have auctioned eleven rain barrels custom painted by local artists and Plow & Hearth employees. Themes ranged from a trout stream to abstract undersea scenes to a coastal lighthouse motif. The made in the USA recycled plastic barrels are intended to enhance a home's outdoor décor. The custom rain barrels can be viewed at http://www.plowhearth.com/rainbarrels.asp.
As part of the awareness campaign, Plow & Hearth is also making a generous donation to American Rivers, the leading conservation organization dedicated to promoting clean rivers. The organization is working to protect our remaining natural heritage, undo the damage of the past and create a healthy future for our rivers and future generations.
According to American Rivers, the United States Environmental Protection Agency estimates that a rain barrel will save most gardeners about 1,300 gallons of water during the hot summer months. Rainwater catchment systems provide a source of clean water without taxing local groundwater supplies. It's an earth-friendly way to collect rainwater for watering your garden or patio plants.
Recycling Water, Why Bother?

The availability of safe drinking water in almost all areas of the world has increased to a large extent over the last few decades.
Observers have interpolated that by 2025 a large part of the world's population will be facing a shortage of water.
Our nation's finite water supplies are under increasing stress from the needs of our growing population, development, energy production, irrigated agriculture, and the challenges brought by climate change
The role of water in the world's economy is enormous because it is used as a solvent for a wide variety of chemical substances in industrial and medical applications.
For 30 years, Plow & Hearth has made caring for the environment a priority. President John Haydock says, "Through our Rain Barrel Program and our Campaign to Reforest American, we hope to raise awareness and encourage our customers to join us in preserving our natural resources."
About Plow & Hearth
Plow & Hearth began as a small retail store in Madison, Virginia in 1980 and has grown to become a respected national catalog, retail and Internet company with more than 5 million customers. For over 30 years, the company has been a trusted source of unique, enduring products for the hearth, home, yard and garden, helping customers create an environment that is comfortable and welcoming, warm and personal. As part of their product development initiative, Plow & Hearth works with artisans and manufacturers around the world to develop innovative products created from uncommon materials and crafted by hand. Special consideration is given to those products made with environmentally friendly materials as well as products that will encourage customers to be more environmentally responsible, such as composting products and energy savers. Every item they sell is backed by a 100% satisfaction guarantee. The Plow & Hearth Family of Brands also includes quality toys from HearthSong® and Magic Cabin®, weather instruments from Wind & Weather®, innovative solutions from Problem Solvers® and unique home and garden décor from WinterthurStore®.
###