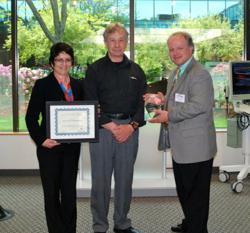 Being in packaging for as long as I have...Intercept has been almost too good to be true.
Braintree, MA (PRWEB) October 18, 2011
In the Spring of this year, Liberty Packaging awarded Analogic Corporation the inaugural Arnie Bailey 15 Year Innovators Award. The Intercept Technology Group, of which Liberty Packaging is a founding member, named the customer appreciation award after the late long-time Analogic packaging engineer, Arnie Bailey. Analogic is a leading worldwide medical equipment manufacturer, headquartered in Massachusetts. For 15 years Analogic has been a loyal customer to the Intercept Technology™ packaging for many of its equipment lines and parts. Receiving the award on behalf of the corporation was Analogic Vice President of Mechanical and Process Engineering, Gill McKenna, who had this to say about his late co-worker, "Arnie was one of the finest people I have ever had the pleasure to know. He worked hard at Analogic and then gave up much of his spare time in South Boston teaching kids how to skate at the local arena. He was an extremely honest, hard working and caring gentleman. Whenever someone brings his name up, the most common response is 'What a great guy !'" McKenna finished simply, "Makes me feel good remembering Arnie." Bailey died in 2007.
The criteria for the Arnie Bailey Innovators Award are 15 years usage of Intercept Technology Packaging, as well as the key component of innovation within business. Analogic Corporation, based in Peabody, MA, has developed and manufactured unique signal-processing technology solutions for the world's most advanced diagnostic medical imaging equipment. Pioneers in computed tomography (CT) in the 1970s, their CT data acquisition and management systems are now used by major medical original equipment manufacturers (OEMs) around the world. Analogic is also a leader in both security and industrial systems technology.
Joe Spitz, V.P. of Sales at Liberty Packaging, worked with Mr. Bailey directly and feels proud that Bailey's name was appointed to the award "because his packaging care and techniques were way ahead of his time". Unlike today where Intercept packaging has numerous successful users worldwide in a multitude of industries, at the time of Bailey's selection of Intercept as his packaging material there were far fewer companies using it for corrosion protection. Analogic was shipping and storing highly-valued medical equipment to some of the more difficult world climates, where infrastructure for receiving and storage of these valuable items was less than ideal.
Speaking about Intercept, Bailey stated in a 1998 interview: "Being involved in packaging for as long as I have, I've always had a magic wish list of things that I would like some of the bags and the other protective things to do; that we'd love all of this stuff to be anti-corrosion, anti-static, work like crazy, be as tough as nails.... in any case, Intercept has been almost too good to be true." In 15 years of Intercept use, Analogic has not had a failure due to corrosion.
The environment was another of the issues Bailey considered important. He said: "it makes no sense at all to ship materials that are going to create problems for someone else on the other side of the planet….packaging for me is as important as anything else that is required to actually get the product in the hands of the end customer in a useable fashion, which can, in reality, be a significant challenge; that what we provide worldwide, is, in reality, quality and it doesn't adversely affect the environment on the other side of the world."
Liberty Packaging is a woman-owned business in Massachusetts, providing Intercept Technology Packaging and related products to industry on the East Coast U.S.
# # #