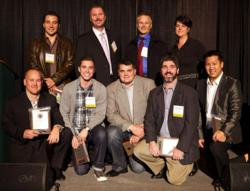 We attribute our success to being family-friendly in our marketing and hiring practices.
Enumclaw, WA (PRWEB) October 14, 2011
PartyPail, Inc. was named the ninth fastest-growing private company in the state of Washington at a reception and awards ceremony held last night by the Puget Sound Business Journal. The ceremony included the top 100 fastest-growing private businesses in the state, all of which are hailed by Business Journal Publisher Gordon Prouty as "some of the most dynamic in our region." All businesses had to show solid year-over-year revenue growth from 2008 to 2010, starting with at least $500,000 in net revenue in 2008.
"We're honored to be ranked anywhere in the top 100, but to find out that we actually placed in the top 10 was quite a treat," says Edward Hechter, CEO. "We attribute our success to being focused on being family friendly in both our marketing and hiring practices."
PartyPail started off as a baby shower supplies company in 2007, shipping tableware and decorations out of Edward and Lisa Hechter's home. Since then, the company has grown to employ 26 people (known as the "mom-squad"), and now ships thousands and thousands of orders each month. This growth has come from the company's focus on customer service, an emphasis on proven marketing methods, and the expansion into new party supply markets over time.
Branching out into the first birthday party decorations market by launching 1stBirthdayParty.com was one of Hechter's first forays into growing beyond the baby shower decorations business, and so far, it has been one of the most successful. Since the website's launch in early 2009, 1stBirthdayParty.com has provided supplies for nearly 30,000 first birthday parties. PartyPail has also expanded into decorations for other milestone parties as well, such as first birthday parties, wedding showers, 50th birthday parties, and more. Current plans for expansion include launching a line of Sweet 16 decorations in 2012.
"Our goal has always been to keep growing the business and push the limits, and it's a great feeling to get recognition from the Puget Sound Business Journal for what we've achieved," says Hechter. "We're not done yet though! Next we're taking on Sweet 16 celebrations, and 1st Birthday Gifts, and after that you can bet we'll find another new market to enter."
Besides baby showers and first birthdays, PartyPail also sells bridal shower favors from BellissimoFavors.com, and over-the-hill birthday decorations and 50th birthday decorations from OverTheHillBirthdayParty.com and 50thBirthdayParty.com, respectively.
About Us:
PartyPail, Inc. is the holding company for a collection of online party supplies stores specializing in baby shower decorations, first birthday supplies, adult milestone party themes, and more. Recently recognized by the Puget Sound Business Journal as the ninth fastest-growing private company in Washington State, PartyPail continues to enter new markets and provide decorations for a growing number of milestone celebrations.
###