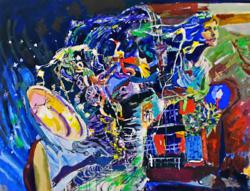 Gilbert Marosi illustrates a radical approach to visualizing dreams a quotable
(PRWEB) October 19, 2011
Ways to depict dreams are myriad. From the hypnotic Dali's "Metamorphosis of Narcissus" to Giorgio di chirico cubistic and colorful "hektor i andromacha."
Gilbert Marosi illustrates a radical approach to visualizing dreams. His approach is surrealistic in a sense and unique in that objects materialize and dematerialize at will. Marosi's intent is to make one float in and out of a concrete and illusory realm. Another fascinating collection is Far out.
As an illustration, take the painting "Spiderweb." The clashing color field screams tension. Spiders, bugs float in a space devoid of gravity. It makes your eyes wander but unable to focus. That is intentional.
Marosi has spent years painting abstracts. According to Marosi, "This demands a skill totally unrelated to that of the figurative artist who is essentially in a cage. To paint an accurate figure the artist must be finely attuned to all the fine nuances of the flesh. To paint an abstract or surrealist painting one must be wild, uninhibited. The artist must be able to slash his way through a painting, close his eyes and let go. The result will be apparent if it is good, and if not, the artist must dance, weave, slither through the painting until it, as a living entity, tells the artist it is done."
In the painting "Let's tango," The couple gracefully slide in and out of a geometric world. On the other hand, the painting "Phantasmagoric," a lovely woman muses, lost into a world conjured by a voodoo witch doctor. Check the complete site at Discombobulation.
# # #