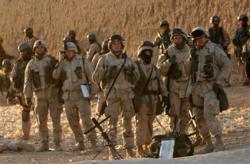 Buy a band support a soldier. Wear a band and you will feel better about yourself, and we guarantee it.
Orem, UT (PRWEB) October 14, 2011
Bands for Freedom Foundation, Inc., announces today it will offer its newly designed Bands for Freedom wristbands (a new product designed to show support for U.S. troops) at wholesale prices to schools, foundations, non-profit organizations and other groups conducting fundraisers.
Steve Cloward, director or marketing and sales said, "Bands for Freedom wanted to create a opportunity for all Americans to support our troops and simultaneously raise funds for local and national fundraising needs. In essence this offers participants a chance to support two causes in one. Many groups and organizations have already began selling the Bands for Freedom for fundraising and they're having a lot of success."
"We have found the Bands for Freedom have been a great way for us to raise funds for our sons football team, while showing support for our troops at the same time," said Jeff Adams, coach of the South Valley spartans.
Adams explained that the kids ages 12-13 years old, chose to sell the new wristbands by Bands for Freedom over things like discount coupon books, or car wash discount passes etc. The kids love the bands so it was easy for them to approach others due to their passion for the wristbands.
The newly designed silicone wristbands have the words FREEDOM * LIBERTY on each side of the hologram that has the words SUPPORT OUR TROOPS above an American Flag. Similar to design of the power balance bands, but without any claims to increased balance and strength. The one thing Cloward says you will feel while sporting the Band for Freedom is that "you will feel better about yourself wearing one, and we guarantee it. Wear a band support a soldier."
The wristbands come in both small, medium, and large, and can be purchased for $9.95 each. The new Bands for Freedom wristbands come in Red, White, Blue, Black and the ever so popular camouflage. For more information about Bands for Freedom, please visit BandsforFreedom.org or call 888-658-6669 ext 1.
About Bands for Freedom Foundation, Inc.
Created in 2004, Bands for Freedom follows the lead of its predecessor, Freedombands, Inc. and has become enormously popular supplier of patriot silicone wristbands that come in red, white, blue, black, and camouflage. The wristbands are marked with the words FREEDOM, LIBERTY, and have a hologram with the words Support our Troops along with the American Flag. The new Bands for Freedom are designed to aid Americans in making a respectful and unified statement in honor of the men and women of the armed forces. Bands for Freedom donate all after-cost proceeds to the Armed Forces Relief Trust and Stars for Stripes Foundation.
About the Armed Forces Relief Trust:
The Armed Forces Relief Trust is a unique non-profit fund created to collect donations for U.S. troops and their families. The AFRT raises money to support the men and women of the U.S. armed forces and their families and unlike other charitable organizations, distributes 100 percent of the money it raises among the five divisions of the U.S. military.
About Stars for Stripes Foundation:
Stars for Stripes is a non-profit organization dedicated to providing quality celebrity entertainment to internationally deployed U.S. military forces.
Become a fan on facebook
Follow us on twitter
Sales, Marketing and Media contact:
Steve Cloward 888-658-6669
###