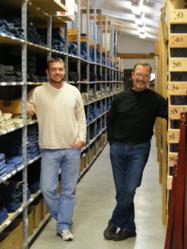 "If it was only about money, we could have accepted many foreign opportunities. We felt a responsibility to our employees and the USA' thus a need to stay in our country".
Arcanum, Oh (PRWEB) October 18, 2011
The All American Clothing Co. was founded in 2002 by Lawson Nickol and family. Prior to the start-up, he was a national sales manager for a USA jeans manufacturer and proud to be a part of American manufacturing. Nickol had high expectations of a continued solid job that would eventually lead down the road toward a comfortable retirement. He passionately believed in the principles of American Made and he knew his job was highly dependent upon his employer living by those principles. One evening, while browsing at retail stores he discovered a pair of his employer's jeans with a label that read, "Made in Mexico". The foreign production would dangerously affect his career, his trust was broken, the retirement he mentioned was jeopardized and employees were going to lose jobs. Unfortunately this situation sounds often too familiar to employees in today's economy.
Instead of supporting companies outside of the U.S. borders at the expense of co-workers, Nickol resigned and started his own clothing company with a few principles of his own called the Success Formula. The company included many strong points that involved employees, job creation, employee tenure, exceptional quality, world class service. Today the company believes passionately that it must have a permanent foundation for successful business in the USA and be strongly committed to US citizens as employees.
After 9 years, instead of enjoying the previously mentioned retirement, Nickol continues at a rapid pace to make a difference the American way. He, his employees, his family and his patrons are celebrating that the company exists and is still creating jobs in the U.S. by largely following the "formula". A few of the key ingredients announced here today:
#1 Obviously, Make it in the USA…
#2 Accept nothing but the best quality…
#3 Make something happen each day… take risks
#4 Be unique…
There is more to learn by visiting the Our Success Formula on http://www.allamericanclothing.com
All American Clothing Company is in the small business category. They manufacture jeans and also offer a range of other accessory clothing. The success formula and the passionate employees have helped to grow the business. They believe and will say, "It's not only about money. If it were just a race for the profit, the company could have moved to many of the multiple opportunities offered across borders". Nickol says, "This company and its jobs will remain as part of the American Dream".
###