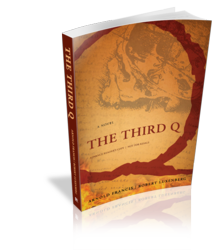 The Third Q is shining a bright light on a powerful reality that is bringing hope, power and change to every person who picks it up, and that is indeed a very exciting thing!
Seattle, WA (PRWEB) October 17, 2011
Today it seems, more than ever before, the headlines are riddled with stories of loss, failure and tragedy. This however is a story of triumph against all odds! Two unknown authors, Robert Luxenberg and Arnold Francis, and a small publishing house, Greenleaf Book Group, have launched a book this last week into the world's consciousness. This amazing book called The Third Q, along with its companion book, Unlocking the Secrets, are giving readers more than hope; they are giving them the tools they need to create the change they want to see in their lives and the world around them.
According to Wikipedia, there are over 200,000 books published every year in the United States, and of those only 1% ever become best sellers. Of that 1%, 95% are published by the big 10 publishers in the U.S. who have the power to drive them to the top of the best seller lists. The Third Q has stunned the publishing world and become a best seller in less than 5 days! Published outside of the big 10, this relatively unknown book has reached the minds and hearts of readers with a story of human growth, loss and triumph over massive adversity.
Although the The Third Q is a very well written literary novel, and is an exceptional read, comparable to books such as The Da Vinci Code and The Celestine Prophecy, what readers learn as they engage in the book is the magic that is making this such an extraordinary success. The story follows Zoro, a failure of a man who embarks on a journey with mysterious billionaire Max. The two have a fascinating relationship that leads Zoro on a path of discovery toward a surprising climax.
Readers are treated to more than a great read as they glean personal insights from the experiences that Zoro is having and the lessons that Max is teaching. Reviews have been pouring in from around the world, including:
"Riveting, original, inspiring! You'll never be the same after you read this book."

T. Harv Eker, Author of #1 NY Times Bestseller Secrets of the Millionaire Mind
"This book defines our world today, it is what we are all looking for, a powerful change that proves that life can indeed be better. It is the change that people are seeking. "What I was looking for is not about an election, it is not about the next big stock market happening, it is about each of us. The people on the street, it is about you and me choosing to be different, to be better. This book is a a road map of sorts to getting where I want to go. Thank you!" said one reviewer.
The world has taken notice of this book, and against all odds, it is moving into the minds and hearts of those who read it. "We are proud of this book. It is more than a story to us, it is the culmination of our life's work. It is our personal story of moving from stagnation, frustration, unhappiness, and unfulfilled dreams to extraordinary success and joy. There are blood, sweat and tears on every page and between every paragraph. This book is our way of trying to condense our journey into something that may help others shorten their own path to the life they are seeking," said co-author Robert Luxenberg.
The truth is that today, stories of success, of powerful change and triumph, are too few and far between. This book, available on amazon.com, is shining a bright light on a powerful reality that is bringing hope, power and change to every person who picks it up, and that is indeed a very exciting thing!
###