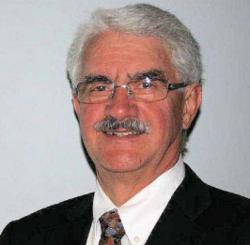 (PRWEB) October 17, 2011
Since his retirement as President of PipeLine Machinery International in December of 2010, Mel and his wife Shirle have been busy re-establishing their Canadian home just south of Calgary. "It has been wonderful to be back and surrounded by my colleagues and friends within the pipeline industry," said Ternan. "Now that I don't have the full-time obligations of PLM, I'm looking forward to opportunities like this one with ek pass to remain engaged and participating in the industry."
Mel Ternan retired as President from Pipeline Machinery International (PLM) at the end of 2010. Mel received his Bachelor of Science in Civil Engineering from the University of Waterloo. He began his career in Canada and the US working his way from project engineer to project manager to construction manager on heavy construction, highway and railroad projects in Canada Florida, Illinois, Kentucky, Costa Rica and Africa.
In 1983 he joined the Caterpillar family with Powell Equipment in Winnipeg, Manitoba. His progression through the dealership resulted in an 18-year career as the Manager of the Pipeline Division and Manager of Powell Arctic, a corporation in partnership with the Inuit Organizations of Nunavut.
Mel has always had a passion for construction work, in his words, "the planning, estimating and completion process creates a special type of people. The pipeline business with its productivity focus is especially exciting". Mel spent 10 years on the board of the Pipeline Contractors Association of Canada.
Mel later joined Finning to lead the Construction and Pipeline operations as General Manager. He held responsibility for Finning's construction and pipeline industries in British Columbia, Alberta, the Yukon and the Northwest Territories.
In 2003, discussions began around a convention table about a better way to serve this pipeline industry. By 2005, Caterpillar's first international dealership without geographic borders and dedicated to one industry was born. Mel's leadership through the first five years has been a testament to his ability to bring cohesion and a spirit of cooperation to very divergent groups. The focus and operation of PLM is outside the regular box in the Caterpillar world. It's outside the box in the local industry world. It has been an education process and one that has been highly successful under this team.
PLM and heavy equipment operator training specialist EKpass formed an alliance in August 2010 establishing ek pass as the exclusive training and related services entity for CAT dealer PLM worldwide. "Along with the other professional members of his PLM team, Mel and I worked together closely on the establishment of the alliance. It became obvious that we shared mutual viewpoints and parallel experiences. Having Mel join our team at EKpass allows us to provide even more depth to our most valued clients, including owner companies, contractors, and consulting firms" says Vest.
EKpass offers services from three different operational arms, training, consulting, and I.T. services.
EKpass is a global training and consulting firm specializing in the development and delivery of all types of heavy equipment and safety training programs and consulting for the pipeline & facilities industries. In the ever challenging and unique area of pipeline construction, this wide scope training addresses such issues as safety as a priority, machine maintenance procedures, operating essentials, and overall operating strategies that lead to improved productivity. ek pass uses state of the art training techniques and technology, and develops and delivers training programs that are both effective and stimulating.
EKpass has extensive expertise in safe equipment operation methods as related to both pipeline and facilities construction. Under its consulting arm, ek pass has been performing such services as hoisting and lifting assessments on-site for both pipeline and facilities construction as an integral part of the safety program for owner companies. ek pass also provides equipment safety audits, efficiency analysis, equipment operator evaluation, pipeline inspection services and solutions to heavy equipment operating challenges.
EKpass continues to add to the assets offered through development of creative new programs based on field and industry experience and processes. ek pass professional resources enable us to offer vital training and mentoring for all pipeline personnel. ek pass's experience in training "on site" makes it possible to provide "tailor made training" specific for each spread or project.
EKpass's balanced curriculum of performance and safety solution based theory and hands on training addresses all needs. ek pass has an extensive I.T arm including web based training development.
For further information about heavy equipment training visit the EKpass website at http://www.ekpass.com or contact EKpass via email at contact(at)ekpass(dot)com or by phone at 1-800-638-9524.
###