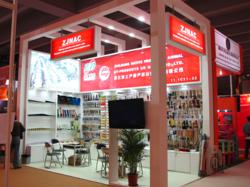 With 66 stands, we will bring over 4,000 kinds of products to customers at 110th Canton Fair 2011. All are welcome to visit us!
(PRWEB) October 14, 2011
The 110th Canton Fair 2011 will be held on October 15th in Guangzhou. ZJNAC(Zhejiang Native Produce & Animal By-products I/E Group co., LTD), the most influential and professional supplier and distributor of a wide assortment of garments, fashion accessories, foods, home textiles, and more, declared that they will bring more than 4000 products to the 110th Canton Fair at 66 stands.
With over 30 years of development, ZJNAC has established itself as the No.1 native produce & animal by-products and garments supplier with a great reputation around the world. In 2010, the total volume of imports and exports reached 502 million US dollars.
"We firmly believe that Canton Fair is a great chance for us to introduce our products and communicate with our customers. Let's wait and see." - Weicai Fang, General Manager of ZJNAC.
In the 109th Canton Fair, ZJNAC received about 2498 old and new customers, increased by 29.8% compared with the 108th Canton Fair. And with unique design styles and samples, ZJNAC's 16 exhibiting areas of brand EEI is published by the International Business Daily as the "the Most Outstanding Garments Booths". In addition, ZJNAC is also invited by the 110th Canton Fair Organization Committee to film the promotional video for Canton Fair.
For the 110th Canton Fair, ZJNAC declared that they have applied for 66 stands and will bring over 4,000 products to customers, including garments, foods, textiles, accessories (shoes, bags, etc.), home commodity, home adornment, and so on, which will cover all three phases of the 110th Canton Fair. Committing to operation and management of commodities, they are confident in satisfying the visitors with their products.
Sticking to the principle of "customer first, quality-oriented and service-oriented", ZJNAC has now distributed over 200 kinds of products to more than 100 countries, having stable relationships with over 2000 clients, such as: C&A Buying GmbH & Co. KG, REDCATS USA, TARGET STORES, and HOMEART PTY. LTD., etc.
"We are the best and will never let you down. All are welcome to visit us!" said Weicai Fang.
ZJNAC Exhibition Memo:
1. October 15th - 19th 2.1 A05-06; 4.1 NO.1; 14.2I28-2129; 16.4H24
2. October 23th - 27th 5.2 J15; 10.3A45-48; 11.Ic31-32; 15.3F33-35/G09-11
3. October 31th - November 4th 4.2 H14-15; 5.1D37-44/E05-12; 6.1B31-32/C09-10; 8.1D34-35/E12-13; 9.3I31-31; 10.1A01-02; 10.3J18; 12.2A10-11/B12-13; 15.2D38-42/E01-05; 15.4C17; 15.4C18
For more information, please visit http://www.global-supplier.com/exhibition
About ZJNAC
ZJNAC, the most influential and professional large international trade co., Ltd, commits to both operation and management of commodities. It deals with more than 20 categories, over 200 kinds of goods, including clothes, home textiles, shoes and foods, etc. The company's trade route covers over 100 countries and areas, has established stable business relationships with more than 2000 merchants. It has owned more than 10 brands and registered trademarks such as "EEI" for garments, "Universe" for brushes, "Feng Feng" for bee products, and "West Lake" for fireworks.
About Canton Fair
Canton Fair, also known as the Chinese Import & Export and Commodities Fair, is held twice a year in Spring and Autumn since it was inaugurated in the Spring of 1957. It is China's largest trade Fair of the highest level, of the most complete varieties and of the largest attendance and business turnover. Preserving its traditions, the Fair is a comprehensive and multi-functional event of international importance. For any enterprise in pursuit of international prestige, Canton Fair blazes a trail for them.
###