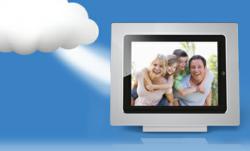 If you want to get everything out of iCloud Photo Stream....you need miFrame
Champaign, IL (PRWEB) October 14, 2011
With the introduction of iCloud Photo Stream by Apple, picture lovers with an iPhone upgraded to iOS 5 will have one less hassle: they will no longer need to manually move photos from their phones to view them on a bigger screen. Instead, photos sync automatically. Just take a photo and within seconds it's in the iCloud Photo Stream and accessible on any Mac, PC, or iOS device.
The release of iCloud Photo Stream raises the question, "Where is the best place to view my photos once in the cloud?" Consumer Reports considers iPad to be one of the best digital picture frames with two shortcomings:
THE FIRST SHORTCOMING OF IPAD AS A DIGITAL PICTURE FRAME
Getting images onto iPad is difficult. Apple's free iCloud Photo Stream solves this for users of iOS 5 devices like iPad and iPhone. The Photo Stream keeps pictures from the last 30 days (up to 1,000 photos) and makes them accessible from any iOS device, Mac or PC. All the details about iCloud Photo Stream can be found on Apple's website.
THE SECOND SHORTCOMING OF IPAD AS A DIGITAL PICTURE FRAME
Digital photo frames are typically connected to power at all times, but iPad runs on a battery and needs to be continually recharged. Striped Sail solves this shortcoming with the introduction of the miFrame ("my-frame"), an iPad picture frame charging dock, that transforms iPad into the best digital photo frame.
IF YOU WANT TO GET EVERYTHING OUT OF ICLOUD PHOTO STREAM....YOU NEED MIFRAME
miFrame extends and enriches iPad Photos. Placing iPad into miFrame, stylishly frames picture slideshows in portrait or landscape, all while charging iPad.
"We grew up with our most cherished pictures in frames. The frame creates a window into our memories, removes the distractions that surround the image, and focuses our eye on what's most important. We designed miFrame to recreate that classic experience with an iPad." co-designer Robb Hughes said. "The iPad has great potential as a picture display device – it has a top-notch screen and great slideshow software built-in. The miFrame adds the key elements necessary to transform the iPad into the world's greatest digital picture frame, namely: recharging, a frame to focus the eye, and the ability to display iPad in portrait and landscape."
ALL THE PIECES TO CREATE THE ULTIMATE DIGITAL PHOTO FRAME HAVE ARRIVED
By combining any iOS 5 device, iPad, iCloud Photo Stream, and miFrame, people can now enjoy all the great photos they take with ease and elegance. Simply take a photo on your iPhone and instantly you can view it in your living room on the iPad high resolution display, framed elegantly by the miFrame.
ABOUT STRIPED SAIL
Striped Sail Ltd. founded in 2010, has a passion for designing innovative products that enrich digital photography. The company is backed by Serra Capital.
miFrame and Striped Sail are trademarks of Striped Sail Ltd. Apple, iPad, iPhone, and iCloud are trademarks of Apple Inc., registered in the U.S. and other countries.
Media Contact: Josh Weinberg | media(at)stripedsail(dot)com | 415-777-3339
###