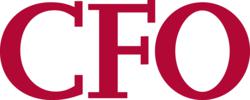 We're making it easier for our readers, as well as new customers, to conveniently access CFO magazine when, where, how, and on whatever device they want
New York, NY (PRWEB) October 14, 2011
CFO Publishing LLC today announced that it is has launched a new range of mobile and digital applications that will make it easier and more convenient for readers to engage with CFO magazine – the CFO magazine Digital Edition and the CFO Mobile Apps.
The new digital edition is a replica of the print magazine. Readers can browse the issue like a print magazine, or search its contents like a website. Favorite articles can be printed or shared from within the digital issue.
The CFO mobile app brings the latest finance news to your favorite mobile platform. Details include a "featured" latest news category, with eight additional sub-categories: Magazine, Accounting & Tax, Banking & Capital Markets, Risk & Compliance, Human Capital & Careers, SMB, Strategy and Technology. With a click, users be able to share articles over social networking services and email, or bookmark an article for later reading.
"We're making it easier for our readers, as well as new customers, to conveniently access CFO magazine when, where, how, and on whatever device they want," said Alan Glass, CEO of CFO Publishing. "We're already hard at work designing the next versions of these apps so our customers can take advantage of even more features and functionality."
The CFO app runs on all versions of Android, RIM/Blackberry, Windows and Apple iOS, and is optimized to take advantage of the unique features and functionality on each readers specific device. A free download is available at http://polar.me/app/cfo/ or visit the app store from your mobile device.
Subscribers to the digital edition will receive a monthly email with a link to the latest issue. To sign up for a free subscription go to http://bit.ly/oBjdrP
Whether in print, online, mobile, or in the new digital format, CFO remains committed to bringing you the valuable information you need to run and grow your business. Take advantage of this great opportunity to access that information in a faster, easier, more convenient way.
About:
About CFO Publishing: CFO Publishing LLC is the leading business-to-business media brand focused on the information needs of senior finance executives. The business consists of CFO magazine, CFO.com, CFO Research Services, CFO Conferences and CFOmetrix. CFO's award-winning editorial content and loyal, influential audience make it a valued resource for its readers as well as an effective marketing partner for a wide range of blue-chip companies. CFO has long-standing relationships with more than half a million financial executives.
###