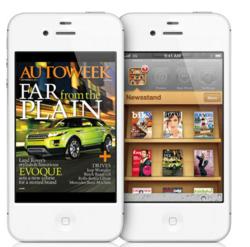 Los Angeles, CA (PRWEB) October 14, 2011
Crain Communications Inc., along with PixelMags, announced the Autoweek iPad edition is now available on Newsstand, a key feature of iOS 5.
Newsstand is an exciting new feature that allows consumers to find digital newspaper and magazine products in one dedicated place on the App Store, and organize them in one easy-to-organize bookshelf. Users who are subscribed to Autoweek will receive new issues automatically on their iPad. Latest issues and most recent cover art will simply appear in Newsstand.
"It's a great opportunity to be a part of Newsstand, and we look forward to introducing Autoweek to a new, broader audience," said KC Crain, VP and Publisher, Autoweek Media Group.
Ryan Marquis, Founder and COO of PixelMags Inc. said, "It is a great time to be a writer, a publisher and a reader. With more and more magazines going digital, we now have the ability to reach a much larger audience than ever before; and with Newsstand, Autoweek will be able to reach their readers directly."
For more than 50 years, Autoweek has tested new vehicles, reported the latest car news and trends, and covered auto racing in all its forms. Using PixelMags, Autoweek will be able to deliver its content to Newsstand, reaching millions of daily readers. PixelMags revolutionary (CDS) content delivery software allows publishers like Autoweek, to evolve their content from a static PDF to a fully interactive magazine with embedded video, slideshows and having full HTML5 ads, making the user experience much more engaging.
PixelMags has been developing iOS apps for three years, successfully delivering the content that publishers have created. Through the services that PixelMags offers, publishers can have the capability to reach the over 250 million iOS users through Newsstand.
Download Autoweek from Newsstand in iOS 5, from the App Store on iPad, or at http://www.itunes.com/appstore.
About Autoweek
Autoweek Media Group delivers automotive information to car buyers and enthusiasts through the media they use. Its team of car experts share opinion, insight, news and data that guide buyers and enthusiasts in their automotive quests. The group includes Autoweek magazine, autoweek.com, Autoweek Productions, and its newest venture, shopautoweek.com. Autoweek is the nation's only fortnightly enthusiast car magazine that for more than 50 years has tested new vehicles, reported the latest car news and trends, and covered auto racing in all its forms. autoweek.com delivers breaking news and fresh content to enthusiasts 24/7. Autoweek Productions creates audio and video content, developing podcasts and radio telecasts, as well as video vehicle walk-arounds and interviews. shopautoweek.com delivers an Internet car shopping experience unlike any other available site. Powered by unbiased insight, opinion and expertise of Autoweek editors, they guide shoppers with a trusted voice married with the latest available data to give consumers objective and subjective points of view. Autoweek Media Group is owned by Crain Communications Inc., publisher of leading industry trade publications Advertising Age and Automotive News, among others, and is based in Detroit, Michigan. Follow Autoweek on Facebook (facebook.com/Autoweekusa) and Twitter (@autoweekUSA).
About PixelMags Inc.
PixelMags Inc. is one of the worlds fastest growing digital content distribution companies that is transforming the future of digital publishing by changing how publishers distribute interactive branded content. PixelMags reaches millions of digital readers daily, in over 33 different languages, and represents such publishers as Hearst UK, Crain Communications Inc., Imagine Publishing, Dennis Publishing and more. PixelMags is a privately held company, with offices located in Los Angeles, London, New Zealand and Australia. Follow PixelMags on Facebook (facebook.com/pixelmags) and Twitter (@pixelmags).
###