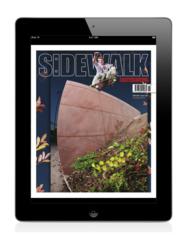 Los Angeles, CA (PRWEB) October 14, 2011
Factory Media Ltd., the largest action sports magazine publisher in Europe, in association with PixelMags, a world leader in content distribution, announced 19 of their iPad magazine titles are now available on Newsstand, a key feature of iOS 5.
Newsstand is an exciting new feature that allows consumers to find digital newspaper and magazine products in one dedicated place on the App Store, and organize them in one easy-to-organize bookshelf. Users who are subscribed to any of Factory Media's titles will receive new issues automatically on their iPad. Latest issues and most recent cover art will simply appear in Newsstand.
Factory Media publishes traditional print and new media brands reaching over 500,000 readers and four million online users every month. The business currently focuses on two market segments, Boardsports and Bike, with an international footprint and multilingual products.
Chris Talintyre, Head of Direct and Digital Marketing for Factory Media said, "The App Store, with over 18 billion downloads to date, is a publisher's dream. With Newsstand, we now have an even better way to showcase our titles to the millions of iOS users.
"Factory Media was an early adopter of digital distribution of its titles, and has seen a steady increase in its digital subscribers," said Mark Stubbs, Founder and CEO of PixelMags. "We are proud to help them deliver on iOS, and now, through Newsstand."
PixelMags has been developing iOS apps for three years, successfully delivering the content that publishers have created. Through the services that PixelMags offers, publishers can have the capability to reach the over 250 million iOS users through Newsstand.
Download Factory Media iPad titles from Newsstand in iOS 5, from the App Store on iPad, or at http://www.itunes.com/appstore.
About Factory Media Ltd.
Factory Media is Europe's leading extreme sports media owner publishing 26 websites and 19 magazines brands, streaming 1.8m videos and reaching over 4 million action sports fans every month. Factory Media is based in London with offices in France and Germany. Magazine brands include; Mpora.com, Onboard, Ride UK BMX, Sidewalk and the award winning Dirt Mountain Bike Magazine.
About PixelMags Inc.
PixelMags Inc. is one of the worlds fastest growing digital content distribution companies that is transforming the future of digital publishing by changing how publishers distribute interactive branded content. PixelMags reaches millions of digital readers daily, in over 33 different languages, and represents such publishers as Hearst UK, Crain Communications Inc., Imagine Publishing, Dennis Publishing and more. PixelMags is a privately held company, with offices located in Los Angeles, London, New Zealand and Australia. Follow PixelMags on Facebook (facebook.com/pixelmags) and Twitter (@pixelmags).
###