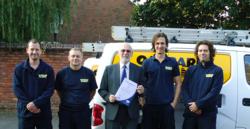 Many fire authorities are now considering BAFE certification as a prerequisite for Brigade response.
(PRWEB UK) 16 October 2011
Oakpark Alarms of Wimborne in Dorset has now achieved BAFE certification (British Approvals for Fire Equipment), demonstrating that the company meets all the appropriate standards of quality, reliability and safety.
The rigorous process to achieve BAFE certification took six months, during which all the engineers completed the required modules, from system design to commissioning and maintenance, followed by examinations.
Managing Director of Oakpark Dorset, Jeff Pearce explained, "BAFE certification demonstrates that we are responsible professionals and have invested in the training to ensure we are at the top of our game. As responsible members of the FIA, (Fire Industry Association) and now BAFE certified, we are qualified to independent industry standards. Our clients save money through lower insurance premiums, and having the job done right first time."
"We were recently asked to certify a fire alarm system installed by an electrician at a small hotel. However, the non-compliances were so numerous and significant, we had to decline. In a building where people were sleeping, and may not understand fire notices quickly, there was no way we could certify the work. Any savings made by the hotel when the fire alarm system was first installed were quickly lost, and the work could not be rectified without rewiring the whole job."
"Many fire authorities are now considering BAFE certification as a prerequisite for Brigade response. Clients are often unsure about the rules regarding effective fire prevention, but if there is a fire, and the Health & Safety Executive (HSE) become involved, they could find themselves criminally liable. If the work that has been undertaken does not meet the requirements laid down under the Regulatory Reform (Fire Safety) Order 2005, both the client and the installer could be liable, with heavy fines, and in severe cases, imprisonment."
BAFE provides independent third party registration for installers in the fire protection industry and is supported by the Fire and Rescue Services, Insurers and leading certification and trade organisations. BAFE is not for profit organisation, and thus has no vested financial interest in awarding certifcation.
Ongoing support for all fire and security systems is essential and often a requirement of insurance companies in maintaining insurance cover in the event of fire or theft or damage from intruders. Oakpark Dorset therefore offers comprehensive 24/7 support of all systems, this includes taking over support of systems installed by other companies.
Established over 26 years ago, Oakpark Alarms of Dorset is based near Wimborne and supplies fire and security, CCTV and intruder and access control systems for both residential and commercial customers throughout Dorset, Wiltshire, Hampshire, Berkshire and West Sussex.
Oakpark Dorset is the South England agent for DSPA (Dry Sprinkler Powder Aerosol).
###